Our heritage
Read about Renishaw's growth over the years.
A brief history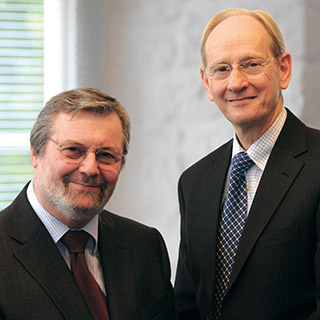 Renishaw was established in 1973 by David McMurtry (now Sir David McMurtry), Executive Chairman, and John Deer, now Deputy Chairman. The company's first product, the touch-trigger probe had been invented by Sir David to solve a specific inspection requirement for the Olympus engines used on the supersonic Concorde aircraft. This innovative product led to a revolution in three-dimensional co-ordinate measurement, enabling the accurate measurement of machined components and finished assemblies.
Throughout our history we have made a significant commitment to research and development (R&D), with around 15 to 18% of annual sales invested in R&D and engineering. This has enabled the company to diversify into sensors for CNC machine tools which are used for automating machine setting operations and in-process part measurement, position encoders for accurate motion control, laser interferometry for machine performance evaluation, systems to produce dental crowns and bridges, Raman microscopes for spectral analysis of materials, gauging technology, additive manufacturing and rapid prototyping, laser measurement and medical devices for neurosurgical applications.
The majority of our R&D and manufacturing is carried out in the UK, primarily in the County of Gloucestershire, where our headquarters are based on the site of a former 19th Century mill used to manufacture woollen cloth. We also have manufacturing bases in France, Germany and the US as well as assembly facilities located near to Dublin, Ireland and in Pune, India. In 2011 we acquired the former Bosch manufacturing facility at Miskin, near Cardiff, in South Wales; manufacturing commenced there in May 2012.
We have a strong global presence, with 81 locations in 36 countries and some 94% of our sales are made outside the UK. Since our formation in 1973 we have won numerous awards, including eighteen Queen's Awards, recognising Technological Achievement, Export Achievement and Enterprise (Innovation).