RA800-series OEM benchtop Raman revealed
Renishaw is very excited to be introducing its latest product range; the RA800-series of OEM benchtop instrument solutions. Based on a generic platform design, these high performance instruments can be configured to provide tailored chemical and materilals analysis solutions across a range of application areas.
RA800-series revealed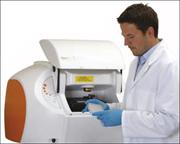 Simplicity and ease of use make the RA800-series ideally suited for routine use in laboratories, QA/QC, and at-line. Now you can have research grade Raman microscopy performance in a Class 1 laser safe, simple to use form, with software to match. Innovative technology results in very rapid data collection of high resolution spectra and Raman images. RA800s can be configured in a range of variants, which differ in excitation wavelength, spectral coverage, sample handling, and software. This enables OEM companies to provide a system that is optimised for customers' requirements.
Although the RA800-series is having its first public showing at Pittcon 2012 in Orlando, Florida, one variant is already in use with Renishaw Diagnostics Ltd (RDL), where it forms part of RDL's RenDx™ RUO Multiplex Assay System, developed as a tool for research into infectious diseases.
Right: An RA800-series instrument in use at Renishaw Diagnostics Ltd.
Enquiries are welcomed from any companies requiring an OEM solution for a particular application area or from instrument companies with new channel opportunities.
Tell us what you think about our website
Please help us improve our website by taking our short website survey.