Renishaw and Thai-German Institute to promote metrology best practice
Enhancing metrology knowledge in Thailand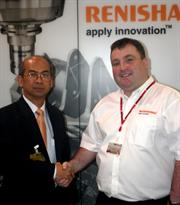 Metrology specialist Renishaw and the Thai-German Institute (TGI) have signed a Memorandum of Understanding (MOU) to jointly promote and carry out education about the benefits of machine calibration and probing technologies to Thailand's engineering industries, with the aim of helping to improve manufacturing processes.
Enhancing metrology knowledge in Thailand
As part of the agreement TGI will provide an exhibition area within its premises to display Renishaw's products during the period of the MOU. This will include a Cyclone stand-alone scanning machine, provided free of charge and supported by Renishaw, for the duration of the MOU. Both parties will also co-ordinate and organise seminars through TGI's advertising media.
Speaking at the signing ceremony, Mr Paul Gallagher, Managing Director of Renishaw (Singapore) Pte Ltd said: "As part of Renishaw's continuing commitment to training and skills development, this MOU will allow us to work even closer with TGI to enhance the knowledge of precision metrology amongst the Thai engineering industries."
The Renishaw Group currently has offices operating in 31 countries, with total employee numbers now over 2,250.
About TGI
The Thai-German Institute (TGI) has been jointly founded by Thai and German governments with an aim to set up an organisation specialising in technology transfer in the industrial sector. The TGI, working independently under the Ministry of Industry, serves as a non-formal educational institute with support from the Foundation for Industrial Development. It has provided industrial and educational services since 1995.
News updates
Register for regular news updates from Renishaw
All documents and images copyright Renishaw plc