Renishaw announced as first member of Being Brunel Corporate Club
25 February 2015
The ss Great Britain Trust has announced that innovative engineering company and long-standing supporter Renishaw, is the very first Being Brunel Corporate Founder.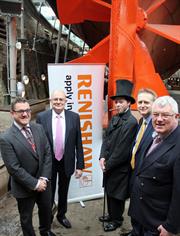 The news comes as the Trust launches the Being Brunel Corporate Club: an exclusive opportunity for companies who are keen to play a major role in creating the ambitious new public museum and visitor experience Being Brunel, which will open in 2017.
Companies can join as a Supporter, Partner, or Founder Member, with opportunities starting from £2,500. All levels offer exclusive benefits and every member will receive recognition in the new museum, which will overlook Bristol Floating Harbour at the starboard side of the ss Great Britain in Bristol.
Chris Pockett, Renishaw's Head of Communications, said:
"More than 150 years after his death we still marvel at Brunel's achievements which continue to inspire new generations of engineers, scientists and entrepreneurs. As an engineering technologies company with our roots in Bristol, we had no hesitation in becoming a founding partner of the Being Brunel project."
Louisa Pharoah Head of Development, ss Great Britain Trust said:
"We're thrilled to welcome Renishaw as our first Corporate Founder. The generous support that they have shown the Trust since 1998 has been invaluable and now they're on board with one of the biggest and most exciting projects we have undertaken since the salvage of the ss Great Britain.
"We've also recruited our first Corporate Supporter, Arthur J. Gallagher, and we look forward to welcoming lots of other companies to join us on this journey."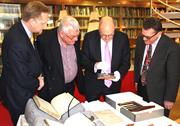 The total cost to deliver the Being Brunel project is £7m. The Trust has committed £350,000 towards this project and the Heritage Lottery Fund has indicated its support by awarding a Round 1 pass and 'in principle' agreement of £4.75m. In addition Clive and Sylvia Richards have pledged £500,000 and the Trust has raised £200,000 since launching the fundraising appeal for the project at an exclusive event at St James's Palace hosted by the Trust's patron HRH The Duke of York KG.
The ss Great Britain Trust is now actively fundraising to secure the remaining £1.2m required to realise this unique project.
About Brunel's ss Great Britain:
Brunel's ss Great Britain is the world's first great ocean liner and the most experimental steam ship of her time. Launched in 1843, this iron-hulled steamship revolutionised travel and set new standards in engineering, reliability and speed. Today, Brunel's ss Great Britain has been awarded a Traveller's Choice Award and has been named as one of the UK's top 10 museums (no. 9 and the only independent museum on the list) and is also Bristol's no.1 visitor attraction - as voted by the public on Trip Advisor. It is home to the Brunel Institute, housing one of the world's finest maritime and Brunel collections.
Downloads
News release: Renishaw announced as first member of Being Brunel Corporate Club

The ss Great Britain Trust has announced that innovative engineering company and long-standing supporter Renishaw, is the very first Being Brunel Corporate Founder.

[1.6MB]

Being Brunel Corporate Club at the ss Great Britain dry dock

Matthew Tanner (Chief Executive ss Great Britain Trust), Ben Taylor (Assistant Chief Executive, Renishaw), "Mr Brunel", Chris Pockett (Head of Communications, Renishaw) and Colin Green (Chairman, ss Great Britain Trust)

[1.5MB]

Renishaw are the first members of Being Brunel Corporate Club

Chris Pockett (Head of Communications, Renishaw), Colin Green (Chairman, ss Great Britain Trust), Ben Taylor (Assistant Chief Executive, Renishaw) and Matthew Tanner (Chief Executive ss Great Britain Trust) with the National Brunel Collection

[1.7MB]