Renishaw announces special upgrade kit for HP5528 and HP5529 system users
Since its launch in 2007 Renishaw's XL-80 laser interferometer system has proved a big success, offering a system that is compact, portable, accurate and easy to use for the comprehensive accuracy measurement of machine tools, co-ordinate measuring machines and other position critical motion systems.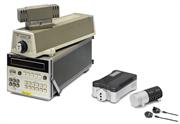 In this time of economic uncertainty, and recognising the investment customers have made previously in competitor's equipment, Renishaw has announced a special upgrade kit exclusively for existing HP laser customers.
Competitively priced laser calibration
Renishaw believes the XL-80 system is a very competitively priced product. However, it has now put together a special upgrade kit specifically for existing HP5528 and HP5529 customers. When they trade-in their old HP laser system components, users qualify for a significantly discounted price on the upgrade kit and accessories (when ordered at the same time).
Renishaw recognizes it's not just the initial system purchase price companies have to consider but the total cost including staff, training and implementing new procedures. The new XL-80 laser system is backwards compatible with most HP optics and set-ups (except straightness and squareness optics). This means that existing users can retain their investment in optics, as well as work and test procedures, when using the XL-80 laser. Compatibility not only saves money but also means that the user will still have a system where all measurement options (linear, angular, straightness, squareness and flatness) use a traceable interferometric measurement.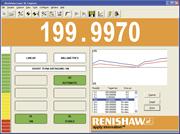 The Renishaw XL-80 laser system comes with a 3 year standard warranty (and optional 2 year extension), giving users certainty over their future running costs compared to the possible cost of repair and recalibration of their old system.
The HP laser trade-in kit comprises:
• XL-80 laser unit
• XC-80 environmental compensator and sensors
• LaserXL™ software (see image right)
• XL-80 laser stage kit
• Universal tripod base
Significant benefits over the HP5528 laser and HP5529 laser systems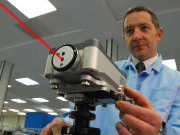 The XL-80 laser system offers significant improvements in portability, system accuracy and dynamic measurement capability over the HP5528 and HP5529 laser system. Whilst retaining the previous ML10's virtues of accuracy, reliability and durability, the XL-80 system is quicker to use and retains the benefits of a pure interferometry based system; proven technology that made the ML10 the system of choice for thousands of companies worldwide. System benefits include:
• Portability and handling
The whole system (less tripod) can be packed into a truly portable 'wheelie case' (available as an option). A complete linear and angular system weighs approximately 12 kg (25 lbs). Even with the optional Renishaw QC10 ballbar included, packed in the case, it weighs less than 15 kg (33 lbs).
• Ease of use
The system is fast and simple to set up with minimal pre-heat time and quick release tripod mounting. Both laser and compensator connect to PC via USB with no separate interface required. Standard optics are stored pre-assembled in the case and the laser head is stored fixed to the tripod stage, reducing set-up time. The compact size and remote interferometer make XL-80 equally well suited to machine, bench or tripod mounting. The magnetic base plate for the environmental compensator maximises mounting location flexibility.
• Performance
The Renishaw XL-80 laser measurement system uniquely offers high traceable accuracy and exceptional dynamic capabilities
• ±0.5 ppm certified linear measurement accuracy (over full 0 degC - 40 degC range)
• 4 m/s maximum travel velocity
• 50 kHz maximum dynamic capture rate
Editor downloads
Renishaw announces special upgrade kit for HP5528 and HP5529 system users

Since its launch in 2007 Renishaw's XL-80 laser interferometer system has proved a big success, offering a system that is compact, portable, accurate and easy to use for the comprehensive accuracy measurement of machine tools, co-ordinate measuring machines and other position critical motion systems. In this time of economic uncertainty, and recognising the investment customers have made previously in competitor's equipment, Renishaw has announced a special upgrade kit exclusively for existing HP customers.

[245kB]
All images and text - copyright Renishaw