Renishaw announces winner of iPod touch
Renishaw is pleased to announce the winner of an Apple iPod touch following the Inside Raman seminar earlier this year.
November 2012
Renishaw announces lucky winner of iPod touch
Jennifer Dougan, Renishaw Inside Raman attendee, wins an Apple iPod touch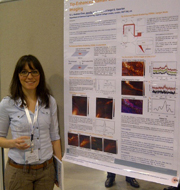 Jennifer was picked at random from all the attendees who completed a feedback questionnaire following Renishaw's Inside Raman seminar, held at the STFC, Rutherford Appleton Laboratory on 11th and 12th September 2012.
The Inside Raman seminar featured talks by prominent scientists on their research involving Raman spectroscopy and Jennifer was particularly keen to hear the talks focusing on tip-enhanced Raman spectroscopy, as well as see the live demonstrations run by Renishaw's applications team.
Working as a post-doctoral research associate in the Kazarian group at Imperial College London, Jennifer uses a combined NT-MDT NTEGRA Spectra system with a fully integrated inVia Renishaw spectrometer.
Jennifer is developing applications for tip enhanced Raman scattering (TERS) spectroscopy and said "by using suitably coated AFM tips to induce an enhancement of the Raman effect in the area local to the tip, TERS allows for the nanoscale resolution of features combined with molecularly specific information. With the combined system, our group has already demonstrated the discrimination of carbon nanotube samples in both inverted1 and upright2 modes with 14 nm and 20 nm to 50 nm resolution, respectively".
Jennifer is pictured here at the recent SCIX meeting in Kansas.
For further details about the research undertaken by the Kazarian group, visit www.imperial.ac.uk/vsci
For further details about Renishaw Raman-AFM systems visit www.renishaw.com/Raman-AFM
1 Chan, K. L. A., Kazarian, S. G. Nanotechnology, 2010, 21, 445704 (6pp)
2 Chan, K. L. A., Kazarian, S. G. Nanotechnology, 2011, 22, 175701 (5pp)
Downloads
News updates
Register for regular news updates from Renishaw