Renishaw at Control 2009 - new CMM retrofit service
Renishaw launches groundbreaking CMM retrofit service and true absolute optical encoders.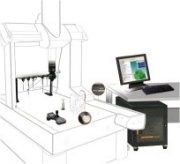 Renishaw will be announcing a series of major new initiatives at Control 2009 (stand 3304, hall 3), including its first CMM retrofit service, its first metrology software, and a range of new optical encoders including a fine-pitch absolute encoder with ground-breaking specifications.
The show takes place from 5th to 8th May in Stuttgart, Germany, and one of Renishaw's key messages is for manufacturers throughout Europe who are suffering from unacceptable inspection bottlenecks that tie up staff and expensive machines whilst waiting for vital measurement results. Visitors will see that a cost-effective Renishaw CMM retrofit does not require a large investment in new equipment and is available for all budgets and applications, from touch trigger probing and 3-axis scanning, through to the latest ultra-fast REVO® 5-axis measurement system..
Free consultation on CMM retrofit
Engineers at the Renishaw stand will be pleased to offer a free, no obligation consultation, about retrofitting a CMM. Even if visitors have an older CMM they may be very surprised at the results that can be achieved by a one-stop retrofit solution from a company with expertise in all relevant technologies, from Renishaw's new MODUS metrology software and UCC2 controller, through to sensors and machine calibration.
RESOLUTE™ absolute optical encoder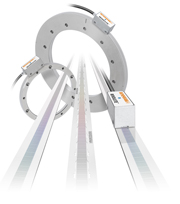 Control is also an opportunity to see RESOLUTE™, Renishaw's true absolute, fine-pitch optical encoder system that has excellent dirt immunity, and an impressive specification that breaks new ground in position feedback. The world's first absolute encoder capable of 27-bit resolution at 36,000 rpm, this gives RESOLUTE™ an astonishing market-leading resolution of just 1 nanometre at 100 m/s for both linear and angle encoder applications. Large set-up tolerances enable easy installation and high reliability, whilst low jitter and SDE (Sub-Divisional Error) meet the demands of high precision stages.
Also on show at Control, TONiC™ is Renishaw's new super-compact non-contact optical encoder, offering speeds up to 10 m/s and resolutions down to 5 nm for both linear and rotary applications.
Use Renishaw as a base
Renishaw invites all visitors to Control to use the Renishaw stand as a convenient base for their visit, with meeting facilities and complimentary refreshments available throughout the exhibition. This is the second year that Control will be held at the new Stuttgart Exhibition Centre, which is on the same site as Stuttgart airport and therefore just a short walk from the terminals. It is also well connected for visitors arriving by road or rail. Manufacturers from across Europe can therefore easily visit Control 2009 in a single day.
All documents and images copyright Renishaw plc