Renishaw at Make Measurement Matter and Aero Engineering
Aero Engineering 2010 and Make Measurement Matter to see products that transform manufacturing performance
At both these UK events Renishaw will highlight products that can transform manufacturing performance, by gaining more throughput from existing assets, increasing machine automation, reducing manual intervention, reducing rework, concessions and scrap, and increasing machine capabilities.

These include new systems for assessing the performance of both three- and five-axis machine tools, a new five-axis probe head for co-ordinate measuring machines (CMMs) that can give up to a three-fold increase in throughput for touch-trigger measurement, new touch probes and software for automated setting and on-machine part verification on CNC machine tools, and an award winning CMM retrofit service.

Machine tool performance testing
On show will be a new wireless ballbar used for the assessment of machine tool positioning and servo control performance. The QC20-W ballbar features a Renishaw developed linear sensor and Bluetooth® wireless technology, which also allows testing in 3 orthogonal planes through a single reference point. A single, simple hardware set up means quicker testing and the ability to produce a representative volumetric measurement of positioning accuracy.
Also shown will be a new cost-effective automated solution for checking the alignment and positioning performance of rotary axes. In just a few minutes, users of five-axis machining centres and multi-tasking mill-turn machines can use Renishaw's AxiSet Check-Up to identify and report on poor machine alignments and geometry that can cause extended process setting times, as well as non-conforming parts.
Five-axis CMM probe head and CMM retrofits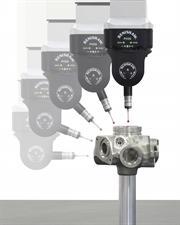 Utilising technology developed for the multi-award winning REVO® measurement system, the new PH20 probe head offers unique 'head touches' for rapid touch-trigger measurement, and fast infinite 5-axis positioning to guarantee optimal feature access. Its compact design makes it suitable for new CMM purchases and as a retrofit to the vast majority of existing CMM touch-trigger installations.

Since early 2009 Renishaw has also offered cost-effective CMM retrofits for all budgets and applications, from touch trigger probing and 3-axis scanning, through to the latest five-axis head systems, including PH20. The service, which was recently recognised with a MWP award for 'Best Service and Support', offers a 'one-stop shop' upgrade solution, with Renishaw's universal CMM controller, MODUS metrology software, sensors and machine calibration.
See Renishaw at 'Make Measurement Matter' taking place on 15th September at Warwick University, and at 'Aero Engineering', being held at the NEC, Birmingham from 29th to 30th September. For further information visit www.renishaw.com.