Renishaw Build Processor for Magics
Efficient build preparation follows a step-by-step process:
Process steps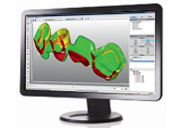 Export from CAD 3D model into .stl format
Import .stl (or optionally native CAD), healing function to aid file conversion
Orientate the part and apply the supports required to anchor the build
Select pre-defined process parameters or edit to suit particular alloys and part geometries
Generate two dimensional layers and tool path, for export to the additive manufacturing system
Advantages and benefits - open source parameters
The Renishaw Build Processor provides a highly flexible platform with a user friendly interface. Users can use pre-determined parameters so the build can be prepared in a few steps. Equally, users may control up to 170 parameters, in keeping with Renishaw's ethos of open source parameters.
Renishaw's extensive process knowledge combined with industry standard Magics' powerful software
Highly flexible platform with the ability to control up to 170 parameters
User friendly interface: using predetermined parameters the build can be prepared in a few simple steps
Enhances the capabilities of Renishaw AM systems.
Support
Renishaw also offer Materialise's annual maintenance package which includes technical support, training and access to the latest software upgrades.
Upgrades and additional functionality
Further upgrades are available, for example advanced support generation, direct CAD file import and advanced lattice structures. More details are available on the Materialise website.