Renishaw debut at SPE Offshore 2013
Renishaw will be exhibiting a range of its metrology products at the SPE Offshore Exhibition in Aberdeen, UK, from 3 – 6 September 2013.
14 June 2013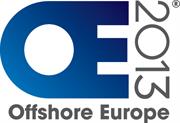 Renishaw is a leading advanced engineering technologies company, with expertise in the field of precision manufacturing. The company will be exhibiting a range of its metrology products at the SPE Offshore Exhibition in Aberdeen, UK, from 3 – 6 September 2013.
For visitors to SPE Offshore 2013 looking to implement full traceability in their manufacturing process, Renishaw has both hardware and software solutions to enable users to produce certification at every stage of the process, from pre-process machine calibration, to online and offline post-process control.
On show in hall 4, stand 184 at the Aberdeen Exhibition & Conference Centre will be Renishaw's REVO®, which gives a fast 5-axis measurement capability that maximises co-ordinate measuring machine (CMM) throughput whilst maintaining high system accuracy. REVO uses synchronised motion and Renscan5™ measurement technology to minimise the dynamic effects of CMM motion at ultra high measurement speeds. This is achieved by letting the REVO head do the fast demanding motion while the CMM moves in a linear slow fashion. The system also allows the automated changing of different probe and sensor types, including a surface measurement option.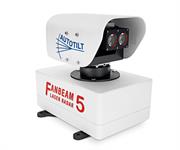 MDL, part of Renishaw plc, will also be showcasing their Fanbeam® laser on the Renishaw stand. The Fanbeam is a high accuracy position reference system for Dynamic Positioning (DP) of work vessels for a range of applications. This rugged system has been designed for high accuracy range and bearing measurements from offshore support vessels and other marine structures.
Renishaw's machine tool calibration systems will also be on show, including the XL-80, which is a compact laser interferometer measurement system which combines portability, performance and ease of use for calibration routines.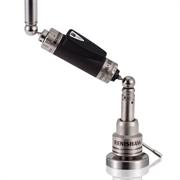 Visitors to SPE Offshore will see that in addition to the conveniences of wireless operation, the QC20-W telescoping ballbar is the first calibration tool to allow testing in 3 orthogonal planes through a single reference point. A single, simple hardware set up means quicker testing and the ability to produce a representative volumetric measurement of positioning accuracy.
Renishaw's Productivity+™ Active Editor Pro brings easy programming and a powerful macro suite to machine tool probe users worldwide. The software supports CAD models from a large variety of CAD formats. Key to the simplicity of Productivity+ has always been the ability to use imported component solid models to generate inspection routines. The application's 'point-and-click' programming methodology allows users to select a geometric feature type from the menu bar, and then pick corresponding feature types from the solid model.
Productivity+ Active Editor Pro can be used to generate probe routines for part set-up, broken tool detection, in-process feature inspection and post process reporting: all of which are vital to maintain control of your manufacturing process.

All images and text copyright Renishaw
Register for news updates
Register for regular news updates from Renishaw