Renishaw founders honoured with lifetime achievement award
6 October 2014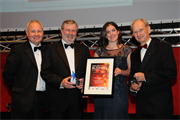 The co-founders of global engineering company Renishaw plc, Sir David McMurtry and John Deer, have been honoured with the inaugural Lifetime Achievement Award at the 2014 Gloucester Citizen and Gloucestershire Echo Business Awards. The award recognises individuals who have made a considerable, profitable and lasting contribution to business in Gloucestershire over a period of at least 20 years.
Stuart Barnes, director of award sponsor QuoLux, said, "I am delighted to announce that the inaugural Lifetime Achievement Award has been given jointly to two men whose leadership, vision, skill, entrepreneurial spirit and determination led to the founding of Renishaw-one of Gloucestershire's most outstanding success stories.
He continued, "Now Renishaw employ 2,000 people in the county and has 110 current apprentices and recruited 68 graduates this year. They are quite literally at the cutting edge of new technology, a global player whose expertise ranges from the latest 3D printing to providing the technology to help enable life-enhancing surgery."
Speaking to BBC Radio Gloucestershire about the award, John Deer said, "It's quite fantastic; a real honour", whilst Sir David noted that although a lifetime award has a "degree of finality" he felt that "there is plenty of life in the old dogs yet!"
Renishaw was formed in April 1973 and although today it employs 3,600 people in 32 countries, for the first three years it was based at John Deer's home in Chepstow, Wales, where the dining room was the office, the garage was the machine shop and assembly took place in the spare bedroom.
Ben Taylor, Renishaw's Assistant Chief Executive, says, "We feel extremely proud of Sir David and John, who are modest men that have created a highly successful global company based on their founding principles of innovation, high quality manufacturing and excellent customer support. The standing ovation that they received from the 750 people present at the awards spoke volumes for what they have achieved over the past 40 years."

Downloads
News release: Renishaw founders honoured with lifetime achievement award

The co-founders of global engineering company Renishaw plc, Sir David McMurtry and John Deer, have been honoured with the inaugural Lifetime Achievement Award at the 2014 Gloucester Citizen and Gloucestershire Echo Business Awards. The award recognises individuals who have made a considerable, profitable and lasting contribution to business in Gloucestershire over a period of at least 20 years.

[93kB]

Renishaw founders honoured with lifetime achievement award

(l to r) Stuart Barnes (QuoLux), John Deer, Rachael Ramos (QuoLux), Sir David McMurtry (image www.roblaceyphotographer.co.uk)

[3.4MB]
All images and text copyright Renishaw
Register for news updates
Register for regular news updates from Renishaw