Renishaw helps the UK Government represent the best of British manufacturing
7th September 2010: UK Business Minster Mark Prisk yesterday unveiled an exhibition of cutting edge products at the Department for Business Innovation and Skills (BIS)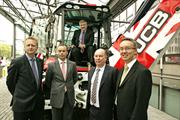 UK Business Minster Mark Prisk yesterday unveiled an exhibition of cutting edge products at the Department for Business Innovation and Skills (BIS), which includes products from world leading engineering company Renishaw plc.
The exhibition is the first in a planned rolling programme of themed displays demonstrating excellence in British design, engineering and manufacturing, and is designed to encourage a new generation of innovators.
The theme for the opening programme is the engineering supply chain and exhibits have been provided by JCB, one of the world's largest construction equipment manufacturers, as well as three other companies who are part of their supply chain: Renishaw, Craftsman Tools and machine tool manufacturer Mazak UK.
Business Minister Mark Prisk said, "Britain is a world leader in manufacturing but if we are to inspire future generations we must do all we can to promote UK excellence. As a signal of our intent we have invited shining examples of British design, engineering and manufacture to showcase their products at the department."
He continued, "I am extremely grateful to JCB, Craftsman Tools, Renishaw and Mazak UK, four leading companies in the engineering supply chain, for contributing exhibits to this event."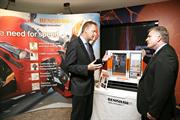 Renishaw was represented at the launch by Chris Pockett, Group Marketing Services Manager who said, "It was a real honour for Renishaw to be invited by the UK Government to help represent the very best of British manufacturing. We hope that this signifies a long-term commitment to present a more positive image of engineering and manufacturing within the UK, which in turn will help encourage more young people to see them as an attractive career choice."
The exhibition is intended to help raise awareness of manufacturing, a sector that the Government says it is committed to promoting as it is critical to economic growth with responsibility for 53 per cent of UK exports and 2.8 million jobs.
Register for news updates
Register for regular news updates from Renishaw
All images and text copyright Renishaw