Renishaw highlights the need for speed at Control 2008
Renishaw focusing on speed @ Control 2008

Renishaw is focusing on speed of measurement and manufacture at Control 2008, with products that will help businesses to manufacture profitably, by reducing process times and minimising the cost of poor quality for a wide range of machining and measurement applications.
Contributing to speed
This contribution to speed is perfectly demonstrated by the revolutionary REVO® five-axis measuring head and probe system which can improve inspection throughput by up to 900% on machines previously fitted with three-axis scanning systems. One user of the system is a large aerospace manufacturer, which since introducing REVO has seen inspection time of airfoils fall dramatically from 16 hours to just 5 hours. The additional capacity created with REVO has enabled a higher degree of flexibility with re-inspection, resulting in an overall cycle time reduction of several days for this part, and leading to lower inventories and more reliable deliveries.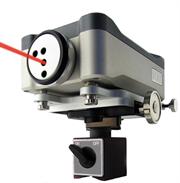 At Control, Renishaw will also showcase a range of other products that enhance speed of manufacture and measurement. For machine performance optimisation, the Renishaw XL-80 is a compact laser interferometer measurement system combining portability, performance and ease of use for calibration routines, with 4 metres/sec speeds and ±0.5 ppm accuracy.
For machine designers, Renishaw's SiGNUM™ non-contact RESM angle encoder has a large through-hole making it ideal for high-speed feedback on machine tool rotary axes, and is now available with FANUC serial communications. For applications that require the highest accuracy, the REXM angle encoder offers new levels of angular metrology, with better than ±1 arc second total installed accuracy, zero coupling losses and exceptional repeatability.
Inspection on machine tools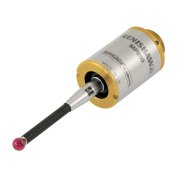 Inspection applications on CNC machine tools continue to grow. Renishaw's new MP250 touch probe for grinding machines and RMP600 touch probe with radio signal transmission for machining centres enable users to carry out the high precision 3D measurement of complex contoured surfaces. Both probes incorporate Renishaw's patented Rengage™ strain gauge technology to maintain performance even when the application requires long styli.
News updates
Register for regular news updates from Renishaw
All images and text - copyright Renishaw