Renishaw joins British Deputy Prime Minister on Indian Trade Mission
26 August 2014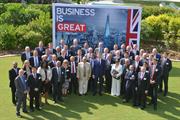 Renishaw, the leading UK engineering technologies business, is taking part in a trade delegation to India from 25th to 27th August which is being led by UK Deputy Prime Minister Nick Clegg. The company is being represented by Rhydian Pountney, General Manager – ROW Sales Division, who received the invitation to attend the delegation in a personal letter from Mr Clegg.
The 40-strong trade delegation aims to take advantage of the opportunities presented by the new Indian government's focus on economic growth and includes major British businesses from the retail, aerospace and education sectors, who will be signing deals and exploring new opportunities with their Indian counterparts.
This is the first high-level trade mission to India since Prime Minister Narendra Modi was elected in May and the Deputy Prime Minister has been joined by Ed Davey, Secretary of State for Energy and Climate Change. The delegation is spending a day in New Delhi, a day in Mumbai and a day in Bangalore.
Rhydian Pountney, who co-chairs the Advanced Manufacturing Group of the India-UK Joint Economic and Trade Committee (JETCO), said, "It is a great honour to be invited to attend this mission and comes at a time that Renishaw is making further investments in India that will be announced by the Deputy Prime Minister during the week. Today we employ over 250 staff in India which includes five sales offices supporting our expanding customer base, plus product assembly and software development at our large facility in Pune."
Renishaw is part of the delegation focused on the aerospace sector and speaking at the GREAT Business Conference in New Delhi on 25 August 2014, the Deputy Prime Minister said, "As the leader in the global aerospace industry, the UK can also help India strengthen its lead in this valuable market. Our aerospace industry - which comprises big names like Rolls Royce, BAE systems, Airbus and Cobham and smaller companies such Group Rhodes, Renishaw and logistics company Patton Air – produces and supplies some of the most pioneering aircraft components in the world."
The delegation was organised by UK Trade and Investment (UKTI) the government department that helps UK-based companies succeed in the global economy.
Downloads
All images and text copyright Renishaw
Register for news updates
Register for regular news updates from Renishaw