Renishaw launches its first corporate blog
Renishaw blog - 'View from the Mill'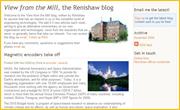 Renishaw, one of the world's leading engineering technologies companies, has launched its first corporate blog. Titled 'View from the Mill', in reference to the iconic 19th Century mill building at its headquarters site in Gloucestershire, UK, the blog is targeted at anyone that has an interest in the company, engineering technologies, and the varied markets that Renishaw supplies.
Said Chris Pockett, Group Marketing Services Manager, "With Renishaw's business becoming increasingly diverse, we felt that it was the right time to give an alternative commentary on developments within the organisation, the novel application of our technologies, and interesting developments in the many industry sectors that we serve. We hope that the blog will prove of value to various audiences including our customers, distributors, shareholders, and even our own employees who are widely spread across the globe."
The blog will be updated two or three times each week and can be viewed on the web at www.renishaw.com/blog, where you can also sign-up to receive it directly via email or RSS feed. Twitter users can also follow Renishaw and the blog at www.twitter.com/renishawplc.
Editor downloads
News release: Renishaw launches its first corporate blog

Renishaw, one of the world's leading engineering technologies companies, has launched its first corporate blog. Titled 'View from the Mill', in reference to the iconic 19th Century mill building at its headquarters site in Gloucestershire, UK, the blog is targeted at anyone that has an interest in the company, engineering technologies, and the varied markets that Renishaw supplies.

[134kB]
All images and text copyright Renishaw
News updates
Register for regular news updates from Renishaw