Renishaw launches RESOLUTE™ ETR with side-exit cable
3rd November 2014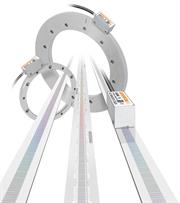 Renishaw, the global engineering technologies company, launches a side-exit cable option for the RESOLUTE ETR (Extended Temperature Range) absolute optical encoder - which handles lower operating temperatures down to -40 °C (-40 °F) in non-condensing environments.

The RESOLUTE ETR encoder system is available with both RESA and high-accuracy REXA rotary (angle) scales. Customers can choose from various serial communication protocols, which enable connection to a wide range of industry-standard motor drives and controllers. The readhead cable exits parallel to the rotary axis and allows for more elegant design solutions with potential reductions in footprint and packaging costs.

RESOLUTE is the world's most advanced single-track true-absolute optical encoder system. Advantages of this system include: wide set-up tolerances, superior long-term reliability, instant operation after power-up without reference return, high speed performance, low Sub-Divisional Error (SDE) and low jitter. Position information is assured by an independent position-checking algorithm that sets an error flag to prevent the transmission of erroneous data to the controller.

These features translate into increased up-time, greater reliability and reduced cost of ownership for the end-user. Applications for RESOLUTE ETR include gyro-stabilisation platforms for aerial imaging, e.g. helicopter-based thermal imaging in law enforcement, scientific / research equipment and others where motion control axes are subject to harsh temperature environments.

Renishaw's introduction of the side-exit cable option for RESOLUTE ETR enhances flexibility in space-limited applications and gives customers absolute freedom to select the very best design solutions. RESOLUTE ETR has CE approval, RoHS compliance, and is manufactured by Renishaw under strict quality controls that are certified to ISO 9001:2008. RESOLUTE, like all Renishaw encoders, is backed by a truly responsive global sales and support network.
Downloads