Renishaw launches the newest version of neuroinspire™ surgical planning software
16 September 2014
Renishaw is pleased to announce that its neuroinspire V4 surgical planning software has received CE mark approval and is now available for sale in the EU.
Version 4 includes significant new functionality such as an easy-to-use interface with PACS hospital servers and a module for region of interest fusion.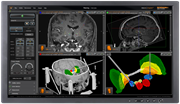 "The neuroinspire software planning station is […] a far more sophisticated program than any I've seen on the market today. For anyone considering it for their unit, it makes a great piece of kit", says Professor Tipu Aziz, Consultant Neurosurgeon, John Radcliffe Hospital, Oxford, UK.
"neuroinspire is intuitive to the needs of the surgeon and gives me the confidence to accurately and safely target deep brain structures, reliably and repeatably", adds Mr. Julian Evans, Consultant Neurosurgeon, Salford Royal Hospital, UK.
Mr. Robert Harrison, Head of software R&D at Renishaw's Neurological Products Division added, "The launch of the newest version of neuroinspire™ is an important step in our endeavour to provide our neurosurgical customers with innovative solutions to enhance the safety and cost-effectiveness of their procedures, improving patient outcomes through accurate delivery of implantable devices."
More information on neuroinspire™ surgical planning sofware can be at www.renishaw.com/neuroinspire
All images and text copyright Renishaw
Register for news updates
Register for regular news updates from Renishaw