Renishaw launches the RESOLUTE™ absolute encoder with side-exit cable
15 November 2013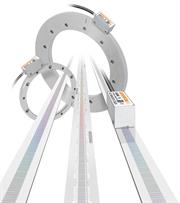 Renishaw, the global engineering technologies company, is launching a new variant of its RESOLUTE absolute optical encoder with a side-cable outlet – available for both rotary (angle) and linear scales. This configuration is compatible with the full range of available protocols and has been created in response to demand from the flat-panel display (FPD), electronic component assembly and test markets.
RESOLUTE is the world's most advanced single-track true absolute optical encoder system. Advantages of this system include: wide set-up tolerances, excellent dirt immunity and superior long-term reliability, instant operation after power-up without reference return, low sub-divisional error (SDE) and low jitter, high-speed performance plus the safety benefits of eliminating miscounting and incorrect commutation as failure modes. These features translate into increased up-time, greater reliability and reduced cost of ownership for the end-user.
Side-exit cables maximise axial travel and are ideal for linear applications with limited longitudinal space. Consequently, the encoder allows side-by-side readheads on the same scale, enabling the control of multiple stations on an axis in applications such as liquid-dispensing systems for liquid-crystal display (LCD) production, as well as a wide variety of stages in semiconductor manufacturing, electronics assembly and testing. In rotary (angle) applications, side-exit of the readhead cable along the axial direction of other cable bundles, allows for more elegant design solutions with potential reductions in footprint and packaging costs.
Renishaw's introduction of the RESOLUTE absolute encoder with side-exit cable represents an enhancement of current capability. Customers with challenging space-limited applications can now choose RESOLUTE with the side-cable option.
The RESOLUTE absolute optical encoder range is available with a variety of high-accuracy linear and rotary (angle) scales and both 'open' and 'proprietary' protocols to enable connection to a wide range of industry-standard motor drives and controllers. RESOLUTE has CE approval, RoHS and WEEE compliance, and is manufactured in-house by Renishaw under strict quality controls that are certified to ISO 9001:2008. RESOLUTE, like all Renishaw encoders, is backed by a truly responsive global sales and support network.
Downloads
All images and text copyright Renishaw
Register for news updates
Register for regular news updates from Renishaw