Renishaw neuromate® installation in the Institut de Biomécanique Humaine Georges Charpak Arts et Métiers ParisTech
3 July 2014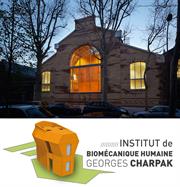 Renishaw mayfield is pleased to announce the installation of a neuromate stereotactic robotic system at the prestigious Institut de Biomécanique Humaine Georges Charpak Arts et Métiers ParisTech in Paris, France. In this internationally renowned laboratory headed by Profs. Philippe Rouch and Wafa Skalli, the neuromate will be used for the development and preclinical testing of new surgical applications, under the responsibility of Prof. Philippe Decq Co-Director of the Unit of Neuro-musculo-skeletal Modelling. The PhD student in charge of these studies will be surrounded by a multidisciplinary team (experts in biomechanics, robotics, image processing, and of course neurosurgeons). Professor Decq is also Head of the Department of Neurosurgery at Beaujon Hospital, Clichy, France where he routinely uses the neuromate for neuro-endoscopic procedures and biopsies. He is an internationally recognised expert in neuro-endoscopic procedures.
Adrian Gut, Global Head of Sales and Marketing for Renishaw mayfield said, "It is a great opportunity for us to have this partnership with Professor Decq and this prestigious laboratory to develop new applications for our neuromate system."
For further information on Renishaw neurological products, visit www.renishaw.com/neurological.
All images and text copyright Renishaw
Register for news updates
Register for regular news updates from Renishaw