Renishaw neuromate® robot upgrade installation in Milan, Italy
16 July 2014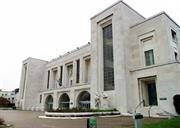 Renishaw is pleased to announce that the world leading 'Claudio Munari Centre for Epilepsy and Parkinson surgery' at Niguarda Hospital in Milan, Italy, has upgraded to the newest model of the neuromate stereotactic robotic system. This centre specialises in the treatment of epilepsy and has used the neuromate system for many years.
Dr. Giorgio Lo Russo, Director of the Centre said, "The neuromate system is an integral part of our surgical workflow for invasive recordings with Stereo EEG, indispensable for the diagnosis of MRI-negative epilepsy patient. We are pleased to be equipped with the latest technology available to the benefit of our patients."
Mr. Paul Skinner, Head of Operations and R&D at Renishaw's Neurological Products Division added, "This upgrade installation confirms the trust of one of the leading neurosurgical centres in the neuromate system and in Renishaw. Niguarda Hospital is one of the key centres providing us with surgeon input for our software and hardware research and development. This type of collaboration with leading clinicians is an integral part of our strategy of developing solutions for the future."
For further information on Renishaw neurological products, visit www.renishaw.com/neurological.
All images and text copyright Renishaw
Register for news updates
Register for regular news updates from Renishaw