Renishaw present at MMC
23rd June 2014
Renishaw will be exhibiting its inVia Raman microscope at MMC2014 from 1st July to 3rd July, at the Manchester Central Convention Complex. Visit stand 1107 to find out how Renishaw's Raman instruments can be used across a range of application areas, with specific emphasis on biology.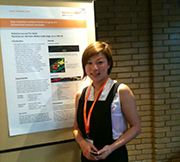 inVia provides users with both rich, detailed, chemical images and highly specific data from discrete points. Visit the Renishaw stand and find out about inVia's high speed capability, which collects data at faster than 1300 spectra per second.
On Wednesday 2nd July, Dr Katherine Lau, one of Renishaw's Life Sciences Applications Scientists, will present a series of posters focusing on how Raman imaging can shed new light on neurodegenerative diseases and cancers without the need for labelling. These studies have been performed in collaboration with University College London (UCL), University of Bristol and Rutgers New Jersey Medical School. The topics include:
Assessing mitochondrial function in the rat brain in situ - poster 4008
A label-free investigation of cellular changes in MG-63 osteosarcoma cells undergoing autophagy - poster 4007
A label-free investigation of the different cell populations present within formalin-fixed paraffin-embedded rat colon tissue sections - poster 4005
Renishaw's inVia Raman system enables the collection of detailed information on cell function without the need for disruptive labels or fluorescent tags, and can enable detailed investigations of cells and tissue.
Join Renishaw at MMC or contact your local sales representative to discover how Renishaw's inVia Raman microscope can help you further your research.
Image: Katherine Lau, Application Scientist, Renishaw

News updates
Register for regular news updates from Renishaw