Renishaw receives the Gildemeister Supplier of the Year award 2009
Renishaw - Gildemeister Supplier of the Year 2009.
Gerhard Lechner, "Innovation at this company is not just a word included in its logo"....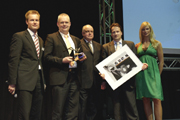 At the 10th Supplier award day organised by Gildemeister AG in Pfronten, Germany, Renishaw received the Supplier of the Year 2009 award in the "Innovation" category.
Gerhard Lechner, Central Purchasing Manager, emphasised in his address: "Innovation at this company is not just a word included in its logo, but something it lives and breathes through continuous technical innovation. Here, the spirit of innovation reaches far beyond pure technology and a whole host of innovative ideas are incorporated in its business relations, which clearly drive joint business interests forward".
Dynamic and integrated machine tool metrology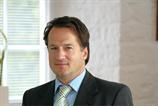 What these comments refer to is the world's most extensive range of metrology products on and around machine tools to improve both quality and productivity. It also refers to Renishaw's international presence, which is aimed at establishing machine tool metrology in a more dynamic and integrated way and actively supporting its partners on-site. "Top quality is easy to complement", said Rainer Lotz, Managing Director of Renishaw GmbH (image right) located in Pliezhausen. "DMG is meeting maximum quality requirements with its machines. Machines with such a high level of accuracy are pre-destined to be equipped with the most accurate metrology systems in order to allow the user to achieve definite time and cost advantages in production".
The PowerProbe program is a joint creation between Renishaw and Gildemeister. PowerProbe products are already available for DMG and Mori Seiki machines, and can be supplied in different sizes and with different technologies, depending on the machine and the measurement application. Rengage™, the unique strain gauge technology patented by Renishaw and already a recipient of numerous awards, is also available within the PowerProbe range. This technology allows users to achieve highly precise measurements and monitor machining operations with very low trigger forces, and is the most precise workpiece measurement probe technology available.
Through its global presence, both in terms of sales, application and service, Renishaw is the optimum partner for international companies. Both the machine builder and the machine user benefit from its technical knowledge, fast service times and excellent comprehensive worldwide support.
Further details of Renishaw's probe systems and software for CNC machine tools.
Downloads