Renishaw sponsors Nibley Music Festival
12 May 2011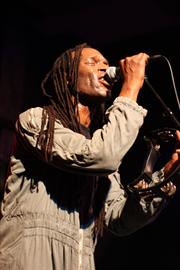 Gloucestershire-based engineering technologies company Renishaw is pleased to confirm a long term sponsorship agreement with the annual Nibley Music Festival, which takes place in North Nibley, Gloucestershire, UK, on July 2nd. As part of the agreement the second stage at the festival will now be called The Renishaw Stage.
Billed as 'The Friendliest Music Festival in the Cotswolds', Nibley is fast gaining a reputation for attracting nationally recognised artists, whilst providing an excellent day's entertainment for the whole family. This year's headline act is The Beat, a band that enjoyed a string of top ten hits including 'Tears of a Clown', 'Mirror in the Bathroom' and 'Can't Get Used to Losing You', and helped start up the UK's Ska music scene.
Also on this year's billing are rapidly emerging acts currently enjoying airplay on BBC Radio 1, 2 and 6Music, including Rob Cowen and The Dissidents, Kill it Kid, and singer-songwriter Natalie McCool, who has received plaudits from a host of luminaries including Sir Paul McCartney and Coldplay's Chris Martin.
"Yet again Nibley Music Festival has proved it can unearth musical gems and the fact that we are now being recognised as a good gig by record companies and agents is testament to the hard work we put in to finding top acts", said Chris Gordon, one of the Nibley organisers. "We are delighted we have now also got a world class organisation as a partner too – the fact that Renishaw is locally based and has shown commitment to many other local voluntary organisations over the years was key to us wanting to team up with them."
Chris Pockett, Renishaw's Head of Communications, said, "With over 1,500 employees within Gloucestershire, we aim to support events that benefit our staff, their families and the wider community. Nibley is a great local festival with high quality nationally recognised music and family entertainment, and we are very pleased to become a long-term sponsor."
For more details on the festival and to purchase tickets online go to www.nibleyfestival.co.uk.
All images and text copyright Renishaw
News updates
Register for regular news updates from Renishaw