Renishaw to exhibit a range of advanced encoder products at SPS IPC Drives 2013

Renishaw, the global engineering technologies company, will be exhibiting a range of its advanced position encoder products for precision motion control at SPS IPC Drives 2013 from 26 – 28 November in Nuremberg, Germany.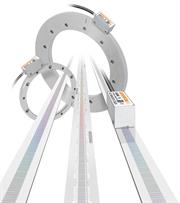 Visitors to the Renishaw stand, 4A-405, will be able to see the RESOLUTE™ true-absolute encoder with DRIVE-CLiQ interface. The DRIVE-CLiQ interface allows connection to both SINUMERIK and SINAMICS drives in applications ranging from high-speed lathe C-axes and rotary tables, to direct-drive rotary (DDR) torque motors that demand the highest levels of precision and motion control integrity. RESOLUTE's advanced design allows wide set-up tolerances, superior long-term reliability, instant operation after power-up without reference return, high-speed performance, low sub-divisional error (SDE) and low noise (jitter). RESOLUTE DRIVE-CLiQ provides machine builders with outstanding metrology and unmatched dynamic performance.
Renishaw will also exhibit the new AksIM™ absolute magnetic encoder, which was launched recently by RLS – a Renishaw associate company. AksIM features excellent cost-performance, zero mechanical hysteresis, 18-bit resolution and support for a range of data output formats. The encoder, comprising a magnetic readhead and unique single-track code on an axially magnetised ring, allows position to be determined immediately on start-up and high-speed operation up to 10,000 RPM. AksIM is suitable for a diverse range of motion control applications including pan-tilt or azimuth-elevation platforms, automation systems and medical equipment.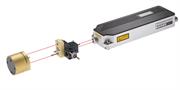 Renishaw's full range of optical and magnetic encoders will be joined by the new HS20 long-range laser encoder. The HS20 laser system provides feedback solutions for machine axes up to 60 metres in length and is fully backwards-compatible with the outgoing HS10 and premium HS10X installations. The HS20 is combined with Renishaw's RCU10 real-time quadrature compensation unit to offer exceptional accuracy and repeatability, with advantages in installation and set-up, when compared to fixed scales. Renishaw is offering a warranty for the new system and significant discounts, on a trade-in basis, to encourage upgrades to HS20.

All images and text copyright Renishaw
Register for news updates
Register for regular news updates from Renishaw