Renishaw to exhibit at MACH 2012
20 January 2012
Equator™ gauging system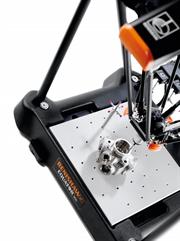 Equator™ is a radical new alternative to traditional dedicated gauging, filling a gap in the market never before addressed. Its patented low-cost design, unique in construction and method of operation, is capable of high-speed comparative gauging for inspection of high-volume manufactured parts. It has been developed and proven on the shop-floor in collaboration with industry-leading companies in multiple industries and applications.
Equator has been conceived and developed by working closely with automotive, aerospace and medical gauging users, alongside their manufacturing machines. The result is a lightweight, fast and highly repeatable gauge that operators can use with 'push-button' simplicity. Equator can switch between parts in seconds, perfect for flexible manufacturing processes or accepting parts from multiple machines.
Laser melting systems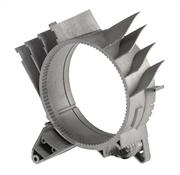 Renishaw will highlight for the first time at MACH its range of additive manufacturing technologies. On show will be Renishaw's laser melting systems, which utilise a pioneering, additive manufacturing process capable of producing fully dense metal parts direct from 3D CAD, using a high-powered fibre laser. Parts are built from a range of fine metal powders that are fully melted in a tightly controlled atmosphere, in layer thicknesses ranging from 20 to 100 microns.
PH20 5-axis system for CMMs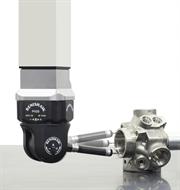 Visitors to MACH 2012 looking to improve measurement speeds on co-ordinate measuring machines will be able to see demonstrations of the PH20 5-axis touch-trigger system, which increases touch-trigger CMM throughput up to three times, using fast, infinite, rotary positioning and unique "head touch" capability for high-speed point capture with minimal CMM movement. The PH20 uses 2-axes of head motion to minimise CMM movement and associated dynamic errors at higher measurement speeds. Its unique "inferred calibration" feature determines head orientation and probe position in a single operation, eliminating the need for calibration at each orientation.
CMM retrofits and software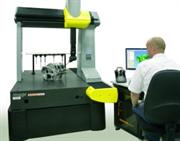 Renishaw is now well established in the CMM retrofit market and visitors to MACH 2012 will see details of its certified coordinate measuring machine (CMM) retrofits which upgrade existing machines to state-of-the-art capabilities – including REVO® five-axis ultra-high-speed scanning. The comprehensive retrofit program applies to all brands of machines. The Renishaw Retrofit™ service enables manufacturers to raise CMM throughput by factors of four, five and more, increase measurement automation, collect more data points for form measurement, and utilise open source software and future probing technology developments.
All images and text copyright Renishaw
Register for news updates
Register for regular news updates from Renishaw