Renishaw to exhibit at Plastics Design & Moulding (PDM) 2014
Renishaw will be exhibiting a range of its advanced engineering products at PDM from 18 – 19 June at the Telford International Centre in Telford, UK
19 May 2014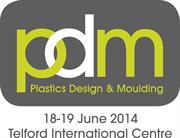 Renishaw will be exhibiting a range of its advanced engineering products at PDM 2014 from 18 – 19 June at the Telford International Centre in Telford, UK. On show will be Renishaw's innovative versatile gauging system, as well as examples of 3D printed components produced using the Company's pioneering laser melting technology.
Equator™, the versatile gauge™ is a lightweight, fast and highly repeatable gauge that operators can use with 'push-button' simplicity. Equator's innovative flexible gauging technology is based on the comparison of production parts to a reference master part, which can greatly increase throughput and reduce scrap rates at a fraction of the cost of an equivalent custom gauging system.
Visitors to PDM will also have the chance to discuss additive manufacturing with Renishaw's experts. The Company is the only UK manufacturer of metal based additive manufacturing machines and will be exhibiting samples demonstrating the versatility of the technology. The AM250 additive manufacturing machines utilise a pioneering process capable of producing fully dense metal parts direct from 3D CAD, using a high-powered fibre laser. Parts are built from a range of fine metal powders that are fully melted in a tightly controlled atmosphere, in layer thicknesses ranging from 20 to 100 microns.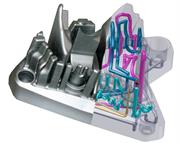 In 2013, Renishaw acquired, as part of an asset deal, the business and employees of LBC Laser Bearbeitungs Center GmbH, a pioneer in the field of additive manufacturing for tool and mould making. This deal allows Renishaw to offer additional additive manufacturing services, including design and simulation, and the contract manufacture of metal prototypes and production parts.
Renishaw also has significant expertise in vacuum casting. Renishaw's machines enable the manufacture of high quality, colour matched parts in glass filled nylon. Components are gas and water tight, suitable for crash testing, and are chemically resistant; resulting in the manufacture of high performance polymer components in nylon PA6 for a range of demanding applications.

All images and text copyright Renishaw
Register for news updates
Register for regular news updates from Renishaw