Renishaw to exhibit ATOM™ miniature encoder at Precisiebeurs 2014
3 November 2014
Renishaw, the global engineering technologies company, will present its range of advanced encoder products at Precisiebeurs 2014 from 12 – 13 November in the NH Conference Centre Koningshof, Veldhoven, the Netherlands.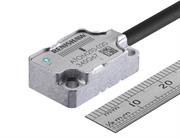 Visitors to stand 164 will see the latest ATOM miniature encoder, an innovative optical linear and rotary (angle)incremental encoder system that uniquely combines miniaturisation with unrivalled metrology performance. This is the first miniature encoder to use optical filtering principles and combines Renishaw's proven filtering optics with Auto Gain Control (AGC) and Auto Offset Control (AOC) for exceptional dirt immunity and the highest signal stability.
The ATOM readhead provides class-leading accuracy with low Sub-Divisional Error (SDE), low jitter, excellent signal stability and long-term reliability. It also includes a set-up LED to allow quick and easy installation and an auto-calibration routine to enable faster optimisation. ATOM offers speeds of up to 20 m/s (29 000 RPM on a 17 mm disc) and resolutions to 1 nm (0.004 arc second on a 108 mm disc). Customers can choose from a range of high-accuracy scales: stainless steel tape to 10 m in length, glass spars to 130 mm and rotary glass discs from 17 mm to 108 mm in diameter. Custom scale lengths and disc diameters are also available on request.
The ultra-compact ATOM readhead is supplied in hi-flex cable and Flexible-Printed Circuit (FPC) output variants with both 20 µm and 40 µm scale options. The side-exit FPC version reduces the overall package size and allows integration with PCBs. ATOM is ideally suited to a variety of space-critical motion control, inspection and metrology applications; talk to stand representatives for more information.
ATOM is joined by Renishaw's RLE laser interferometer system, which is specifically designed for high-precision position feedback applications. Each system consists of an RLU laser unit and one or two RLD10 detector heads, which can be selected from a range of six different types for maximum application flexibility. Benefits of the RLE system include fibre-optic laser launch, integrated interferometer optics and beam steerers, the removal of thermal error sources, less than ± 1 nm SDE and ease of use when compared with conventional laser systems. RLE provides the user with sub-nanometre resolution capability at velocities of up to 2 m/s for axis lengths of up to 4 m.