Renishaw to focus on measurement and motion control at Southern Manufacturing show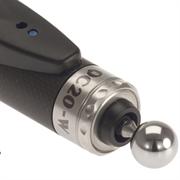 18 November 2010
Renishaw's wide range of measurement products help manufacturers gain more throughput from existing assets, increase machine automation, reduce manual intervention, reduce rework, concessions and scrap, and increase machine capabilities.
Highlighted at Southern Manufacturing, taking place in Farnborough, UK, from 16th to 17th February 2011, will be new machine tool touch probes and software for automated setting and on-machine part verification, systems to assess the performance of both three- and five-axis machine tools, and a new five-axis probe head for co-ordinate measuring machines (CMMs) that can give up to a three-fold increase in throughput for touch-trigger measurement. There will also be demonstrations of Renishaw's latest incremental and absolute encoders for precision motion control.
QC20-W is a new wireless ballbar used for the assessment of machine tool positioning and servo control performance. It replaces the industry standard QC10 ballbar, and now features Bluetooth® wireless technology and the ability to produce a representative volumetric measurement of positioning accuracy. Also shown will be AxiSet Check-Up, a new automated solution that allows users of five-axis and mill-turn machine tools to quickly check the alignment and positioning performance of rotary axes.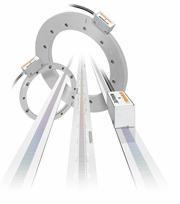 The new PH20 five-axis head offers unique 'head touches' for rapid touch-trigger measurement, plus fast infinite 5-axis positioning to guarantee optimal feature access. Its compact design makes it suitable for new CMM purchases and as a retrofit to the vast majority of existing CMM touch-trigger installations.
New encoder products at Southern Manufacturing will include the revolutionary RESOLUTE™ absolute optical encoder that is capable of 1 nm resolution at speeds up to 100 m/s. New additions to Renishaw's TONiC™ range of incremental optical linear and rotary encoders include 1 nm resolution options, UHV compatible formats, and a Dual Signal Interface (DSi) version.
More information about Renishaw products can be found at www.renishaw.com.
All images and text copyright Renishaw
News updates
Register for regular news updates from Renishaw