Renishaw to focus on metrology and 3D printing at Southern Manufacturing 2015
21 November 2014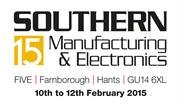 Renishaw, the global engineering technologies company, will be exhibiting a range of metrology and additive manufacturing (metal 3D printing) products at Southern Manufacturing 2015, from 10 – 12 February, at FIVE in Farnborough, UK.
On stand Q98, Renishaw will be showing Equator™, a lightweight, fast and highly accurate versatile gauge that operators can use with 'push-button' simplicity. Equator's innovative flexible gauging technology is based on the comparison of production parts to a reference master part, and users can greatly increase throughput and reduce scrap rates at a fraction of the cost of an equivalent custom gauging system.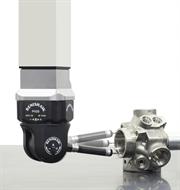 Renishaw will also be exhibiting the PH20 5-axis touch-trigger system for CMMs. The PH20, which increases touch-trigger CMM throughput up to three times, uses fast, infinite, rotary positioning and unique "head touch" capability for high-speed point capture with minimal CMM movement. It uses 2-axes of head motion to minimise CMM movement and associated dynamic errors at higher measurement speeds. The PH20 system also incorporates a unique "inferred calibration" feature which determines head orientation and probe position in a single operation, eliminating the need for calibration at each orientation.
Renishaw is the only UK manufacturer of metal-based additive manufacturing (metal 3D printing) machines and the Company will show a range of fully dense, complex parts that have been built using its pioneering process. The system uses a range of metal powders, including aluminium, titanium and inconel. The laser melting technology involves fusing the metal powder in layer thicknesses ranging from 20 to 100 microns using a high powered yterrbium fibre laser. The process is digitally driven, direct from 3D CAD data.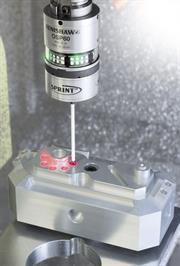 The game-changing contact scanning system, SPRINT™ will also be on show. SPRINT opens up completely new process control opportunities for high-value CNC machine tools. The SPRINT system incorporates a new generation of on-machine scanning technology that will deliver a step-change in the benefits of process control, enabling fast and accurate form and profile data capture from both prismatic and complex 3D components.
Renishaw will also show its machine tool calibration products, including the QC20-W wireless ballbar, its range of modular fixturing for CMMs, vision systems and the Equator versatile gauge, as well as a sample of Renishaw's encoders for precision position feedback.

Downloads
All images and text copyright Renishaw
Register for news updates
Register for regular news updates from Renishaw