Renishaw to focus on motion control and measurement at ATX West show
Renishaw to focus on motion control and measurement at ATX West 2011, Booth 4245, from 8th to 10th February 2011.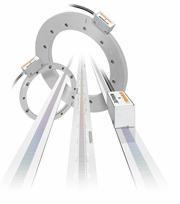 Highlighted at ATX West 2011, (Anaheim, California, USA, from 8th to 10th February 2011), will be new encoder products including the revolutionary RESOLUTE™ absolute optical encoder that is capable of 1 nm resolution at speeds up to 100 m/s. Also on show are new additions to Renishaw's TONiC™ range of incremental optical linear and rotary encoders including a 1 nm resolution option, UHV compatible formats, and a Dual Signal Interface (DSi) version.
ATX West will also see the debut for RoLin™, which is a component level encoder consisting of an RLM readhead and MS magnetic scale or MR ring. It has been designed for embedded motion control applications as a position control loop feedback element. The actuator is a periodically magnetised scale or ring with a pole length (P) of 2 mm. Radial or axial reading of the ring is possible, and applications are expected to be for high volume, miniature axes in a wide range of industry sectors.
Renishaw's wide range of measurement products also help manufacturers gain more throughput from existing assets, increase machine automation, reduce manual intervention, reduce rework, concessions and scrap, and increase machine capabilities.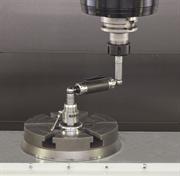 At ATX West, Renishaw will show the QC20-W wireless ballbar system which assesses machine tool positioning and servo control performance, and now includes a volumetric testing capability, plus a range of new touch probes and probe software that increase machine tool automation and improve process control.
For visitors sourcing off-line measurement products, there will also be the opportunity to discuss Renishaw's new retrofit service for co-ordinate measuring machines (CMMs), including MODUS™ the company's first metrology software.
Downloads
All images and text copyright Renishaw
News updates
Register for regular news updates from Renishaw