Renishaw to focus on position feedback at Sensors and Systems 2011
Renishaw, a world leading engineering technologies company, will be exhibiting the latest additions to its range of position feedback encoders at the Sensors and Systems exhibition, being held in Farnborough, UK, from 14-15 September 2011
13 April 2011
Visitors to stand B17 will see a new component level magnetic encoder, a new absolute optical encoder with a range of serial communications options, and new additions to Renishaw's popular TONiC™ range of incremental encoders.
Renishaw's TONiC™ incremental optical encoders provide the accuracy of fragile fine-pitch encoders, but in a rugged, simple-to-install package. New additions to the range of linear and rotary encoders include 1 nm and 2 nm resolutions, a dual output encoder interface, UHV compatible formats and compatibility with Renishaw's Dual Signal Interface (DSi) for high accuracy angle encoding.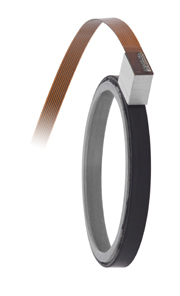 For embedded motion control applications, RoLin™ is a component level non-contact magnetic encoder designed for use as a position control loop feedback element. The system consists of a readhead and magnetic scale or ring, with electronics inside the readhead allowing high interpolation rates up to 13 bits and fault monitoring. A wide range of resolutions is available from 0.244 µm to 125 µm, with speeds up to 40 metres/sec dependent on chosen resolution. Radial or axial reading of the ring is possible, and applications are expected to be for high volume, miniature axes in a wide range of industry sectors.
Visitors to Sensors and Systems will also be able to see the revolutionary RESOLUTE™ true absolute optical encoder, which is capable of 27 bit resolution at 36,000 rpm. The fine-pitch system offers excellent dirt immunity, while delivering market-leading resolution of just 1 nanometer at up to 100 m/s, for both linear and angle encoding applications. It is available with a range of high-speed serial protocols including the BiSS®-C (uni-directional) open protocol and FANUC serial communications in linear encoder format.
For more information about Renishaw's encoder products visit www.renishaw.com/encoder.
All images and text copyright Renishaw
News updates
Register for regular news updates from Renishaw