Renishaw to focus on precision position feedback at Drives & Controls 2012
Renishaw's range of encoder products will be on show at Drives & Controls 2012, in Birmingham, UK from the 17th – 19th April 2012.
3 April 2012
Renishaw's range of encoder products will be on show at Drives & Controls 2012, in Birmingham UK, from the 17th – 19th April 2012.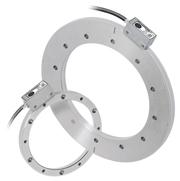 Visitors to hall 3, stand D1326, will be able to see the revolutionary RESOLUTE™ true absolute optical encoder, which is capable of 32 bit resolution and 36,000 rpm in rotary configuration. With high accuracy scales, outstanding motion control, excellent dirt immunity and wide set-up tolerances, RESOLUTE outperforms all other non-contact absolute encoders. The fine-pitch system delivers a market-leading resolution of just 1 nanometre at up to 100 m/s, for both linear and rotary encoding applications. It is available with a range of high speed serial communications including the BiSS® open protocol and proprietary protocols from FANUC, Mitsubishi and Panasonic.
Also on show is the RESOLUTE ETR (Extended Temperature Range) encoder that brings all the benefits of the revolutionary RESOLUTE rotary absolute encoder to harsh, low-temperature applications. With operation guaranteed down to -40 °C (-40 °F) in non-condensing environments, RESOLUTE ETR is perfectly suited for use in demanding applications such as telescopes, scientific research, military and aerospace.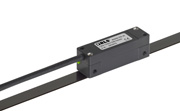 The new LMA absolute linear magnetic encoder system, produced by Renishaw's partner company RLS d.o.o., will also be launched at the show. Featuring BiSS pure serial protocol, this encoder is perfect for applications such as SMT pick and place machines, machine tool, assembly lines and medical scanning. The LMA true absolute encoder offers resolutions to 0.244 µm and speeds to 14 m/s, and is sealed to IP68 for excellent dirt immunity.
For embedded motion control applications, RoLin™ is a component level non-contact incremental magnetic encoder. The system consists of a readhead and magnetic scale or ring, with electronics inside the readhead allowing high interpolation factors up to 13 bits and integrated fault monitoring. A wide range of resolutions is available from 0.244 µm to 125 µm, with speeds to 40 m/s. Radial or axial reading of the ring is possible. This product is intended for high-volume applications across a wide range of industry sectors where space is limited.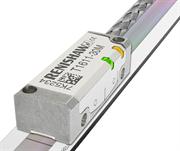 Renishaw's TONiC™ incremental optical encoders, with a range of metal scales, provide the performance normally only possible with fine-pitch glass scales, but in a reliable, super-compact and simple-to-install package. New additions to the range of linear and rotary TONiC encoders include 1 nm and 2 nm resolutions, a dual output encoder interface, Ultra High Vacuum (UHV) compatible readheads and angle encoder options including a Dual Signal interface (DSi) with REXM ring for accuracy down to ±1 arc second.
For more information, visit www.renishaw.com/encoders
All images and text copyright Renishaw
Register for news updates
Register for regular news updates from Renishaw