Renishaw to highlight additive manufacturing at TCT Live 2011
4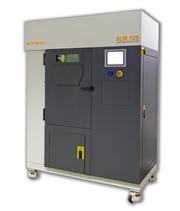 August 2011
In Hall 3A, Stand E16, the company will be demonstrating its AM125 and AM250 laser melting systems, which utilise a pioneering, additive manufacturing process capable of producing fully dense metal parts direct from 3D CAD, using a high-powered fibre laser. Parts are built from a range of fine metal powders that are fully melted in a tightly controlled atmosphere, in layer thicknesses ranging from 20 to 100 microns.
Renishaw will also exhibit Equator™, the first product in its new gauging line, which is a new alternative to traditional gauging systems. Its patented low-cost design, unique in construction and method of operation, is capable of high-speed comparative gauging for inspection of high-volume manufactured parts.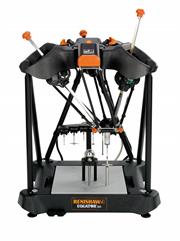 Equator has been conceived and developed by working closely with automotive, aerospace and medical gauging users, alongside their manufacturing machines. The result is a lightweight, fast and highly repeatable gauge that operators can use with 'push-button' simplicity. Equator can switch between parts in seconds, perfect for flexible manufacturing processes or accepting parts from multiple machines.
Also at TCT Live will be a nylon vacuum casting machine, which enables the manufacture of high quality, colour matched parts in glass filled nylon. Components are gas and water tight, suitable for crash testing, and are chemically resistant; resulting in the manufacture of high performance polymer components in nylon PA6 for a range of demanding applications.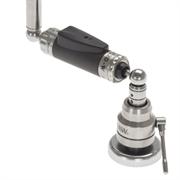 Visitors to Renishaw's stand at TCT Live will also see that in addition to the conveniences of wireless operation, the QC20-W telescoping ballbar is the first calibration tool to allow testing in 3 orthogonal planes through a single reference point. A single, simple hardware set up means quicker testing and the ability to produce a representative volumetric measurement of positioning accuracy.
Also exhibited will be the PH20 5-axis touch-trigger system, which increases touch-trigger CMM throughput up to three times, using fast, infinite, rotary positioning and unique "head touch" capability for high-speed point capture with minimal CMM movement. The PH20 uses two-axes of head motion to minimise CMM movement and associated dynamic errors at higher measurement speeds. Its unique "inferred calibration" feature determines head orientation and probe position in a single operation, eliminating the need for calibration at each orientation.
Downloads
All images and text copyright Renishaw
News updates
Register for regular news updates from Renishaw