Renishaw to hold Community Open Day at its world-class machine shop
Renishaw is to hold a Community Open Day at its Stonehouse manufacturing facility on Saturday 28th April.
12 April 2012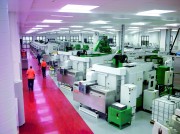 Renishaw, the global engineering technologies company with five sites in Gloucestershire, UK, is to hold a Community Open Day at its Stonehouse manufacturing facility on Saturday 28th April. The event will form part of the inaugural Stroud Festival of Manufacturing & Engineering Week, and the site will be open to visitors from 10am to 3pm, with last tours of the facility commencing at 2pm.
The Stonehouse site houses 83 latest generation computer numerically controlled (CNC) machine tools, including specially modified Renishaw systems, that produce over 400,000 machined parts each month. It also contains milling machines designed and manufactured by Renishaw that are used to manufacture dental crowns and bridges. The company purchased the site for £5 million in 2004 and invested a further £2.5 million on refurbishment to create a modern, technically advanced manufacturing facility.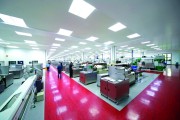 Visitors to the site will be able to look inside what has been described as one of the UK's most efficient precision-engineering operations, which is a far cry from the traditional perceptions of manufacturing. It is surprisingly bright and clean, and features full air-conditioning, a ceiling structure designed to reduce noise, and a state-of-the art extraction system to eliminate airborne contaminants.
Gareth Hankins, Renishaw's UK Manufacturing Director, says, "One of our key aims was to build a pleasant place to work, but we also wanted to achieve the wow factor. Every year we play host to visitors from across the world, and whether potential customers, potential employees, politicians or the general public, we think it is important to present a positive image for UK manufacturing."
The Stonehouse site has also won plaudits from many journalists, including the leading journal Professional Engineering, which said, "In the struggle to convince youngsters that engineering is not a grimy, spanner-in-hand profession, those entrusted with improving the industry's image could do worse than persuade Renishaw to open the gates of its new factory to all and sundry."
Visitors to the Open Day do not need to make a booking, and whilst all ages are welcome there will be no crèche facilities available. At a time that Renishaw has 120 vacancies in Gloucestershire, staff will also be on hand to discuss opportunities within the business, including apprenticeships and student placements.
All images and text copyright Renishaw
Register for news updates
Register for regular news updates from Renishaw