Renishaw to reveal 3D Raman imaging at Pittcon
Collect and display Raman data from volumes within transparent materials
Bring your samples to life with the new 3D fast imaging capability of the inVia Raman microscope. New inVia systems—with the StreamHR™ imaging option—can now collect and display Raman data from within transparent materials. This provides users with full 3D visualisation of their samples.
StreamHR is used to collect Raman data from a series of planes within materials. These data are then processed and displayed on the computer screen as 3D volume images representing quantities such as Raman band intensity, or more complex parameters (such as principal components derived from chemometric analysis). The user can rapidly review the data by rotating and zooming in on the volume in real-time, with control over colours and transparency. The data can also be displayed on moveable plane slices within the volume and the spectrum displayed from individually selected points.
For more information please contact your local sales representative or come and see us at Booth 952 at Pittcon 2012; our experts will be happy to demonstrate this exciting new capability.
3D imaging of stress within ruby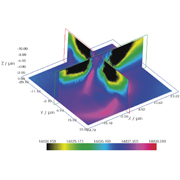 The frequency of ruby's chromium R2 photoluminescence band can be used to reveal stresses within the ruby. Here, three slices of data from an indented ruby sample reveal subsurface stresses; two slices perpendicular to the surface cross at the centre of the indent, the third slice shows stresses in a plane below the indent. Data like these help material scientists to understand deformation and fracture mechanisms.
3D imaging of multiphase inclusion in quartz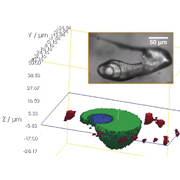 A geological quartz sample containing a multiphase inclusion. Within the inclusion are gaseous CO2/H2S (blue), liquid CO2 (green), and sulfur fragments (red), all surrounded by an aqueous phase (not indicated). This information helps geologists understand mineral formation mechanisms.
Inset: An optical microscope image of the inclusion.
Pittcon 2012
Pittcon (The Pittsburgh Conference on Analytical Chemistry and Applied Spectroscopy) 2012
Sunday 11th – Thursday 15th March 2012
Orange County convention center, Orlando, FL, USA.
www.pittcon.org
Tell us what you think about our website
Please help us improve our website by taking our short website survey.