Renishaw's Chairman joins scientific and engineering elite
Sir David McMurtry has been formally accepted as a Fellow of the Royal Society at an admissions ceremony held at the Society's offices in London on 15th July
26 July 2011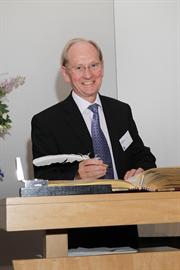 Sir David McMurtry, Chairman and Chief Executive of global engineering company Renishaw, has been formally accepted as a Fellow of the Royal Society at an admissions ceremony held at the Society's offices in London on 15th July. During the ceremony Sir David signed the Society's historic Charter Book which since 1663 has recorded the signatures of each new Fellow and Foreign Member, including such luminaries as Charles Darwin, Isaac Newton, Stephen Hawking and Tim Berners-Lee.
During his acceptance speech Sir David described how he invented the original touch-trigger probe to solve a measurement problem on the fuel pipes for the Rolls-Royce supersonic jet engine that powered Concorde, and how Renishaw technology is now being used in brain surgery - "A journey that started nearly 40 years ago with an intricate fuel pipe is now venturing into the very plumbing of the human mind!"
Speaking about Renishaw's business model which centres on developing high-margin, high value-added products that enables the company to keep both its R&D and the majority of its manufacturing in the UK, he said, "This vertical integration is vital if we are to continue to develop innovative products that the world wants to buy, and is essential if we are to rebalance the UK economy towards manufacturing and exports."
Sir David also expressed his belief that such an approach is only sustainable with a steady supply of young people who are not only entering careers in science and mathematics, but who are also able to apply these subjects in technology and engineering. He stated, "I believe that it is critical that we inspire our brightest minds to develop and make the great products that will underpin the country's future economic success."
The Royal Society aims to expand the frontiers of knowledge by championing the development and use of science, mathematics, engineering and medicine for the benefit of humanity and the good of the planet. Fellows are drawn from the most eminent scientists, engineers and technologists from the UK and the Commonwealth, who are elected for life through a rigorous peer review process on the basis of excellence in science.
All images and text copyright Renishaw
Register for news updates
Register for regular news updates from Renishaw