Renishaw's enhanced engineering at Euromold 2014
19 November 2014
Global engineering company Renishaw will exhibit its latest range of additive-manufacturing machines and precision metrology systems at Euromold 2014. The world fair for moldmaking and tooling, design and application development will take place on November 25-28, at the exhibition centre in Frankfurt am Main, Germany. Renishaw can be found in hall 11.0, on stand E128. The company's products and technology will also be featured in several supporting stands.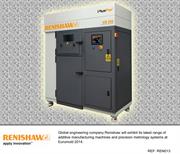 On the main booth, Renishaw will demonstrate the most recent developments in the manufacturing capabilities of its laser melting machines. The technology is commonly known as metal 3D printing.
Visitors at the show will be able to find out more about products made using additive manufacturing, including the famous Empire Cycle's bicycle with the world's first 3D printed metal frame. There will also be a range of samples for the dental industry and a set of wheel hub carriers produced for the University of Stuttgart's Formula Student GreenTeam.
"Renishaw considers additive manufacturing a viable solution for mainstream manufacturing environments," explained Rob Weston, marketing manager of Renishaw's additive manufacturing products division. "So far, we've had the opportunity to apply our expertise in the dental, aerospace and automotive sectors, but we're always looking for new challenges and applications for our additive manufacturing technologies."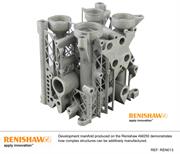 Renishaw will also have a presence on a number of supporting stands. Prototyping and manufacturing specialist, FTAS GmbH will showcase one of Renishaw's AM250 laser melting machines at Hall 11, booth F104. The AM250 was designed to suit the needs of the manufacturing industry whilst still featuring a degree of freedom and flexibility. It can produce a variety of complex geometries, from implantable devices to detailed aerospace components.
Renishaw's laser melting technology is capable of producing fully dense, complex parts from metal powders, including titanium, cobalt chrome, aluminium, stainless steel and inconel alloys. The additive manufacturing technology involves fusing the metal powder in layers using a high powered ytterbium fibre laser. The process is digitally driven, direct from 3D CAD data.
Renishaw's LBC Engineering division will also share booth L53 in hall 8.0 with Listemann Technology AG. The focus of this exhibit will be the design, simulation and realisation of conformal cooling solutions for mould inserts by applying additive manufacturing, vacuum brazing and conventional manufacturing methods. Renishaw acquired the business assets of LBC Laser Bearbeitungs Center GmbH in May 2013, with the purpose of widening the range of its additive manufacturing services, including the design, simulation and manufacture of metal prototypes and production parts.
For further information on additive manufacturing, visit www.renishaw.com/additive
All images and text copyright Renishaw
Register for news updates
Register for regular news updates from Renishaw