REVO® five-axis measurement system for CMMs wins 3rd award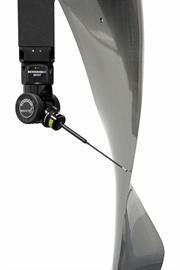 Renishaw's REVO® five-axis measuring system for co-ordinate measuring machines (CMMs) has been honoured with another top international award, winning the Platinum Award for the Most Innovative Product at the ENGIMACH 2010 exhibition held in Gujurat, India. The trade fair is one of India's leading events for engineering and machine tool technologies, and the award for REVO® was achieved against strong competition, with entry open to any of the 1,000 exhibitors participating at the event.
Third award for innovation
This new award further reinforces the industry recognition given to a revolutionary measurement product that has brought dramatic benefits to part inspection on CMMs. In 2008 REVO® was judged outright winner of the 'Best quality control product or system' at the MWP Awards held in Birmingham, UK, where an independent panel of experts from manufacturing industry described the measuring system as an "Absolutely brilliant idea, which speeds the measurement of complex component shapes."

Later that year during the international Micronora exhibition held in France, the REVO® five-axis measuring system won a Micron d'Or (Golden Micron) award for innovation in the 'Production tool and instruments' category. The awards are described by the organisers as 'the indisputable benchmark of innovation' and are given to innovations being showcased at Micronora for the first time.
Significant measurement benefits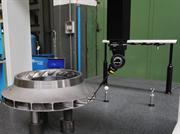 In daily operation REVO® is also proving to be a winning addition to its users' measurement operations. In the USA TURBOCAM, a leading manufacturer of five-axis turbomachinery, has seen its inspection programming time, set-up time and measurement time reduce by 50 percent and more since installing the system, whilst in Italy, GE Oil & Gas has seen huge reductions in the time taken to inspect impellers (image right) after a retrofit of REVO® to an existing co-ordinate measuring machine.

For further information about REVO, visit www.renishaw.com/revo.
News updates
Register for regular news updates from Renishaw
Editor downloads
News release: Revolutionary five-axis measurement system for CMMs wins another international award

Renishaw's REVO® five-axis measuring system for co-ordinate measuring machines (CMMs) has been honoured with another top international award, winning the Platinum Award for the Most Innovative Product at the ENGIMACH 2010 exhibition held in Gujurat, India. The trade fair is one of India's leading events for engineering and machine tool technologies, and the award for REVO® was achieved against strong competition, with entry open to any of the 1,000 exhibitors participating at the event.

[136kB]
All images and text - copyright Renishaw