Sir David McMurtry
A brilliant innovator, Sir David McMurtry is recognised globally for his contributions to aerospace, industrial measurement and factory automation. He is renowned for his lateral thinking and capacity to deal with engineering concepts from multiple disciplines.
Master of Manufacturing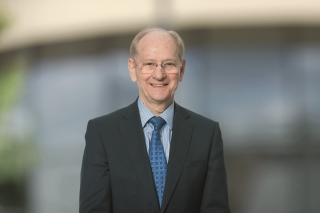 David McMurtry was born in Dublin, Ireland in 1940 and initially trained as an apprentice in the aerospace industry in the UK. His career progressed rapidly, becoming the youngest ever Assistant Chief of Engine design for all Rolls-Royce engines manufactured in Filton, Bristol. Whilst at Filton he invented the 3D touch-trigger probe to solve a measurement problem faced with the Olympus engines for the supersonic Concorde aircraft.
In 1973 McMurtry and John Deer founded Renishaw Electrical Ltd to commercialise this product which revolutionised the development of co-ordinate measuring machines for dimensional measurement, allowing the manufacture of ever more complex and accurate components.
Today, McMurtry is Chairman and Chief Executive of Renishaw plc, a world leader in engineering and healthcare technologies, employing over 4,000 people in 35 countries. A prolific inventor he is named on 47 patents at Rolls-Royce and over 150 at Renishaw. He has been honoured by numerous organisations around the world for his contributions to engineering and science.
McMurtry is a Fellow of the Institute of Mechanical Engineers, a Fellow of the American Society of Manufacturing Engineers, a Fellow of the Royal Academy of Engineering and in 2011 became a Fellow of the Royal Society. His Knighthood was awarded "for services to Design and Innovation" and he was appointed a Royal Designer for Industry (RDI) in 1989. The Institute of Physics jointly awarded its 2012 Swan Medal to Sir David and John Deer for their role in founding Renishaw and leading it to become one of the world's principal manufacturers of metrology equipment.