Substantial savings to be made from controlling machining processes
Survival of the fittest - the process control imperative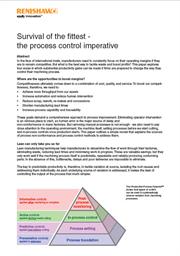 In tough times, manufacturers focus on reducing their operating costs, but may not be able to afford to spend their way out by buying more productive machinery. With that pathway closed, what are the opportunities for radically reducing costs without replacing existing machines?
Where can we:
reduce manning levels?
reduce unproductive time such as setting or waiting for
operators?
reduce scrap, rework and concessions?
reduce inspection costs?
Download the paper
The eight-page white paper 'Survival of the fittest - the process control imperative' examines four areas where substantial savings can be found if firms are prepared to change the way they control their machining processes.
preventative controls that reduce the number of sources of variation before machining starts
process setting to deal with predictable sources of variation
in-process control to tackle sources of variation that are inherent to machining
post-process monitoring in which the process and part are checked against their respective specifications
The white paper is essential reading for all engineers, supervisors and managers with responsibility for machining efficiency and part quality.
White paper
White paper: Survival of the fittest - the process control imperative

In tough times, manufacturers focus on reducing their operating costs, but may not be able to afford to spend their way out by buying more productive machinery. With that pathway closed, what are the opportunities for radically reducing costs without replacing existing machines? This paper explores four areas where substantial savings can be found if firms are prepared to change the way they control their machining processes.

[1.5MB]
News updates
Register for regular news updates from Renishaw
All images and text - copyright Renishaw