The right pathway to a digital workflow
May 2016
Five minutes into his tour of Renishaw's Innovation Centre in Gloucestershire, the owner of the dental laboratory commented "who knew all of this was here on our doorstep, a major dental framework and equipment supplier, manufacturing in Gloucestershire and on this scale?"
It was a typical response received by the Renishaw staff showing him the award-winning company's 153,000 ft2 Innovation Centre, opened by the Princess Royal in 2015.
Here visitors see Renishaw's high-precision measurement and manufacturing technologies, advanced software, scanners, frameworks and metal 3D printing machines. The comment reflects how much research & development, design and manufacturing is undertaken by the UK's only manufacturer of metal 3D printing machines. Total control over manufacturing processes means control over the fit and surface finish of its frameworks, which are supplied with a ten year guarantee.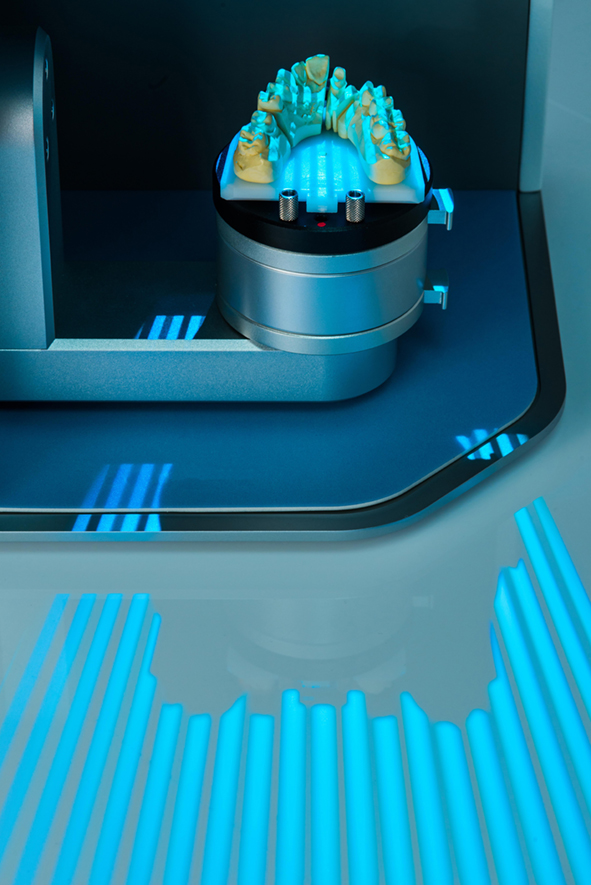 Whilst visiting, dental laboratories can also see custom medical implants created for maxillofacial surgeons and hospital technicians – with their extremely intricate geometries – most are there to find the best pathway to an efficient digital workflow.
Their attention turns to Renishaw's turnkey system which comprises a range of scanners such as the blue light DS30 dental scanner and Renishaw Dental Studio, design software, powered by exocad®.
Service is as vital to these visitors as product quality. With an experienced dedicated support team in the UK, Renishaw ensures this need is met.
Whether labs are investing in their first CAD/CAM system or upgrading to the latest technology, most are looking to overhaul their processes and skills with a new system, and the Renishaw team knows that part of their role is to help this stage.
Client feedback surveys show it works: the team regularly gets 100 percent satisfaction scores.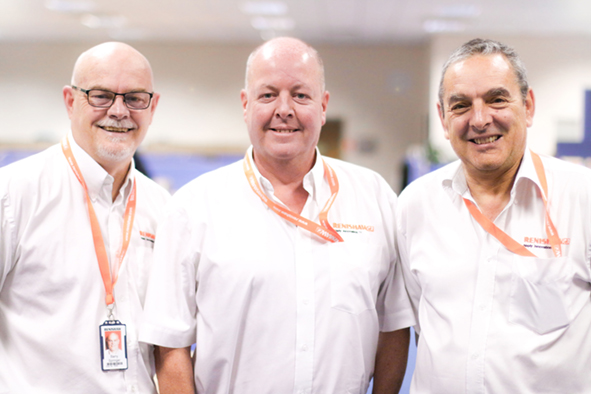 It is all part of Renishaw's aim to work closer with its customers instead of simply being a supplier. For many labs, the Renishaw support team is called "an extension of our team" offering help and advice.
On any one day, the support team could be training in Glasgow and Brighton, trouble-shooting by phone or shadowing lab trainees via remote WebEx.
Equal care is given to CAD/CAM training during and after installation, making the digital workflow easy for lab staff to pick up. To train lab staff to an expert level normally takes a day of installation and training, a week for staff to practice on it, followed by a follow-up session, either on-site or remotely depending on the customer's preference.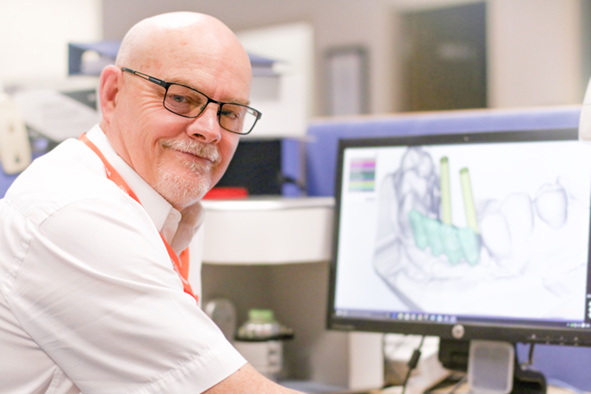 The team supports labs via telephone support and remote screen-sharing sessions from 8am to 4:15pm during the working week with out-of-hours support available, no appointments required.
Keeping equipment running is vital too, so Renishaw offers fast responsive support and a 'repair by exchange' service on hardware, giving its customers a refurbished unit, typically shipped on the same working day.
Open manufacturing is a key offering, and for clients using third party CAD systems Renishaw offers a manufacturing option under a quality management system certified to ISO13485, via an electronic submission and tracking service on many materials.
Its AM250 metal 3D printing machinery is kept busy day and night processing lab orders with a 48 hour turnaround time for standard crowns.

For clients like Bristol-based CBC, an award winning restorative laboratory, the ability to subcontract metal framework manufacture to Renishaw has enabled them to realise efficiency improvements, and free up valuable staff for more profitable lab work.

Just as important to CBC was the consistent quality brought about by the frameworks and their fixed cost. For them the result was happier dentists, less remake work, consistent prices and better business planning for the coming year.
The digitisation of dentistry and dental technology is bringing obvious technical gains. For the lab owner, the ability to streamline the workflow provides the foundations on which to build a more flexible, profitable business, with more product consistency and thus customer satisfaction.
A recent case study describing the use of Renishaw services and equipment at Cardiff University Dental Hospital (CUDH) showed that good results mean more free time, more quality, more high-end-work, more business control and more profit.
CUDH used Renishaw's fast scanning and design times to streamline routine work and handle a high volume of collared shell copings and reduced anatomy frameworks. They built a scalable workflow, ensuring many of its crown and bridge technicians were trained to use it in order to create flexibility and productivity in holiday seasons. The outcome for CUDH was a higher throughput.
Not every lab wants to increase their output, or to take on more business. They may just want to control costs or manage time better.
In contrast, for labs ambitious for higher value work on challenging prescriptions, the system has helped them to create cases from partially reduced crowns and bridges to intricately designed custom abutments. The combination of Renishaw's system and its manufacturing quality control embodies what 3D printing is really all about: an enabling technology for the science of the possible.
For more information please visit www.renishaw.com/dental
News updates
Register for regular news updates from Renishaw