Top German award for Renishaw's PH20 five-axis measurement system
11 October 2010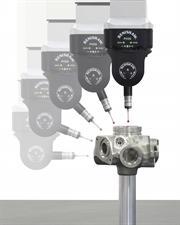 Renishaw's new PH20 five-axis head for touch-trigger measurement on co-ordinate measuring machines (CMMs) has won the MM Award for 'Most Innovative Measurement System' at the AMB 2010 exhibition held in Stuttgart, Germany. The MM Awards are presented by the leading German trade magazine MM Maschinenmarkt and entries for the nine categories of award are open to any of the 1,100 exhibitors participating at AMB, which is Germany's leading national exhibition for the metalworking industry.
The awards were presented on 29th September by Ken Fouhy, Publisher and Editorial Director of MM Maschinenmarkt, who praised the significant technological progress being made within the metalworking sector. He presented the MM Award for PH20 to Rainer Lotz, Managing Director of Renishaw GmbH and Emil Hasfeld, Renishaw's CMM Business Manager in Germany, and praised the PH20 for its ability to give up to a three-fold increase in measurement throughput.
Commenting on this new award, Renishaw's CMM Marketing Manager, Brian Gow, said, "This is the fifth international award for the unique five-axis measurement technology that underpins both PH20 and our revolutionary REVO measuring head. It is particularly pleasing for PH20 to win this award for innovation at the main trade show in Europe's most competitive market for machine tools and measurement equipment."
This new award reinforces global industry recognition for Renishaw's five-axis measurement systems, with the REVO head already having been honoured in four different countries, most recently being judged 'Best Product' at Hungary's Industria exhibition by the committee of the Federation of Technical and Scientific Societies. It has also won leading awards in the UK, France and India.
The PH20 probe head offers unique 'head touches' for rapid touch-trigger measurement, and fast infinite 5-axis positioning to guarantee optimal feature access. Its compact design makes it suitable for new CMM purchases and as a retrofit to the vast majority of existing CMM touch-trigger installations. Like REVO it also minimises CMM motion, therefore reducing dynamic CMM errors, resulting in improved accuracy, repeatability, and significantly improved inspection throughput compared to existing touch-trigger systems.
For further information about PH20 visit www.renishaw.com/ph20.
All images and text copyright Renishaw
News updates
Register for regular news updates from Renishaw