UK Government Minister opens Renishaw regional training centre
Renishaw centre for Manufacturing Productivity is opened at the University of Greenwich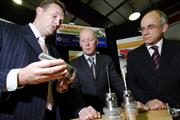 The UK Minister for the South East, Jonathan Shaw MP (centre), opened the Renishaw Centre for Manufacturing Productivity at the University of Greenwich at Medway, Kent, on 22nd October.
The centre, a partnership between the university and engineering manufacturer Renishaw, will offer courses to businesses and develop teaching and research on manufacturing productivity, as well as giving local firms access to the latest technology.
Jonathan Shaw says: "Partnerships between universities and business are critical to give the manufacturing sector the skills and knowledge to compete in a challenging market. The Renishaw Centre is an excellent example of collaboration to meet this challenge. It exemplifies the best of what the talent and facilities in our universities, working in partnership with a world class British company, has to offer the wider community."
Renishaw productivity course
One of the initiatives is a two-day course, developed by Renishaw to help manufacturing companies increase automation and improve quality.
Pro Vice-Chancellor at the University of Greenwich, Professor Tom Barnes (right in image) says: "The benefits of the Renishaw Centre will be seen across the region through better skills, increased high-technology manufacturing capacity, enhanced productivity and faster innovation, giving more competitive edge."
Renishaw's UK General Manager Marc Saunders (left in image) adds: "Renishaw has proven that it is possible to thrive as a UK-based manufacturer through exceptional levels of automation and process control. We have distilled our years of accumulated manufacturing knowledge into training material that will help companies to develop their own robust, automated processes to compete globally."
News updates
Register for regular news updates from Renishaw
All documents and images copyright Renishaw plc