Volumetric error compensation
Enables more extensive measurements to be used to populate volumetric compensation tables for a machine's linear axes, ensuring consistent performance throughout the working volume.
Volumetric error compensation is a method of compensating the axes of a machine tool to remove geometric errors in positioning.
The majority of CNC machine controls used today include options to compensate for linear errors such as back-lash and pitch error. The limitation of this type of compensation is that it only compensates for some of the error sources and is less effective away from the line along which the errors were measured.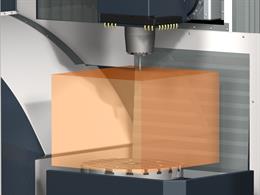 More modern machines commonly offer an option for volumetric compensation of linear axes, which considers linear, angular, straightness and roll errors along an axis, plus errors in squareness between axes. This type of compensation produces a machine geometric performance, which is consistent throughout the whole volume of the machine tool.
To perform volumetric compensation, linear, angular, straightness (captured using the XL-80 laser system) and axis squareness (all three squareness errors can be calculated from a single hardware set-up using the QC20-W ballbar system) of the machine axes are required. These measurements then need to be imported into the machine control.
Renishaw has produced software to work with a variety of machine controllers to import measurement data and configure it for use in the machine's volumetric compensation option. Each machine controller volumetric compensation option is different and requires a custom software package specific to the controller manufacturer.
If you have a requirement to perform volumetric compensation, please contact your local Renishaw office.