Board of directors and company secretary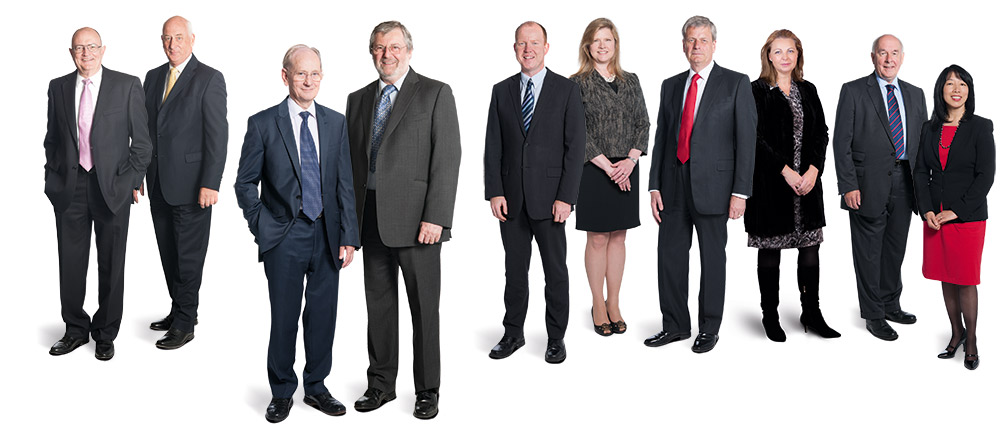 Sir David McMurtry

Chairman and Chief Executive
Sir David McMurtry, CBE, RDI, FREng, FRS, CEng, FIMechE, Chairman and Chief Executive, was employed by Rolls-Royce plc, Bristol, for 17 years, latterly holding the positions of Deputy Chief Designer and Assistant Chief of Engine Design of all Rolls-Royce engines manufactured at Filton in Bristol. After inventing the original probe in the early 1970s, Sir David founded Renishaw in 1973 with John Deer.
His CBE was awarded "for services to Science and Technology" and he was appointed a Royal Designer for Industry (RDI) in 1989. He is a visiting Professor of Huddersfield University and has been awarded an honorary Doctorate of Engineering at the University of Birmingham and honorary degrees of Doctor of Engineering at Heriot-Watt University, the University of Bristol and the University of Bath. He has also been awarded an honorary fellowship at Cardiff University. Sir David is a Chartered Engineer, a Fellow of the Institution of Mechanical Engineers, a Fellow of the American Society of Manufacturing Engineers, a Fellow of the Royal Academy of Engineering, and in 2011 became a Fellow of The Royal Society. The Institute of Physics jointly awarded its 2012 Swan Medal to Sir David and John Deer for their role in founding Renishaw and leading it to become one of the world's principal manufacturers of metrology equipment. In addition to his role as Chairman and Chief Executive, Sir David also has responsibility for group technology and is the Chair of the Nomination Committee.
John Deer

Deputy Chairman
John Deer, Deputy Chairman, trained as a mechanical engineer and worked for Rolls-Royce plc, Bristol, from 1960 to 1974. He was Managing Director of Renishaw from 1974 to 1989, primarily involved in the commercial direction of the Group, with particular emphasis on marketing and the establishment of the Group's wholly-owned subsidiaries in the USA, Ireland, Japan, Germany, France and Italy. John and Sir David McMurtry were members of the four-man team of Renishaw engineers honoured with the MacRobert Award in 1987. In 2012 John was awarded the Swan Medal by the Institute of Physics jointly with Sir David McMurtry. John is responsible for group manufacturing and group quality and is chairman of the overseas marketing subsidiaries.
Allen Roberts

Group Finance Director
Allen Roberts, FCA, Group Finance Director, qualified as a chartered accountant in 1972 and is a Fellow of the Institute of Chartered Accountants in England and Wales. Before joining Renishaw in 1979, he was employed for 11 years by Peat, Marwick, Mitchell & Co. He was appointed a director in 1980. Allen heads group finance, business systems, and Wotton Travel Ltd. Allen also has the healthcare regulatory and quality assurance functions reporting to him.
Ben Taylor

Assistant Chief Executive
Ben Taylor, CEng, FIMechE, Assistant Chief Executive, has been involved in the field of metrology all his working life, after graduating in mechanical engineering and design from Pennsylvania State University. Before joining Renishaw Inc as President in 1985, he was the Director of Engineering at Sheffield Measurement, USA. Ben was appointed to the Board of Renishaw plc in 1987 and is responsible for group marketing, international operations, human resources, and quality assurance for metrology products. He serves on various metrology committees and other professional associations and is a Chartered Engineer, a fellow of the Institution of Mechanical Engineers and a Liveryman of The Worshipful Company of Scientific Instrument Makers.
Carol Chesney

Non-executive Director
Carol Chesney, FCA, non-executive director, is a chartered accountant who worked at Arthur Andersen for seven years in audit services. Carol worked for some time in the group accounts function at English China Clays plc before joining Halma plc, where she is now company secretary, having also been group financial controller. Carol's role at Halma includes corporate governance, legal compliance, risk and insurance, equity incentives, pensions, management of internal audit, property, health and safety compliance, environmental reporting and anti-bribery and corruption compliance. Carol was appointed a director of Renishaw plc in October 2012. She is chair of the Audit Committee, and a member of the Remuneration and Nomination committees.
Geoff McFarland
Group Engineering Director
Geoff McFarland, Group Engineering Director, has a degree in computer aided mechanical engineering from Heriot-Watt University, where he subsequently worked for several years as a research associate. He is a visiting professor at the University of Bath and an honorary professor at Heriot-Watt University. After working in the medical device and electronic manufacturing sectors, Geoff joined Renishaw's research facility in Edinburgh in 1994, before moving to the headquarters to become Director and General Manager of the CMM Products Division. Geoff was appointed to the Board in July 2002. He heads the group engineering function and is also responsible for group IP and patents.
John Jeans

Non-executive Director
John Jeans, CBE CEng, is currently Chairman of the Council of Cardiff University, Imanova (an imaging research partnership between three London Universities and the MRC), and UK Biocentre Ltd. He is also a Board member of the University and College Employers Association. He also leads Innovate UK's Stratified Medicine Advisory Board and is Chair of the Strategic Advisory Panel for the Singapore Government's Diagnostics Hub. Previously he was the Deputy Chief Executive of the Medical Research Council, and continues to sit on the MRC's audit and risk committee. John has held senior international leadership positions in global companies including Smith & Nephew, Bristol Myers Squibb, Johnson & Johnson and Amersham plc (now GE Healthcare). He headed the commercial function of GE's Life Science business and was the Chairman of its UK Healthcare Company.
John holds experience ranging from medical devices and therapeutic pharmaceuticals to in-vivo and in-vitro diagnostics, encompassing research, product development, manufacturing and commercialisation. In June 2014 John was appointed advisor to the Prime Minister at the Office of Life Sciences for the medical technology sector. He was awarded the CBE for services to Life Sciences, Healthcare and Science in 2012. Appointed to the Board of Renishaw plc in April 2013, John is a member of the Audit, Remuneration, and Nomination committees.
Dr David Grant
Senior Independent Director
Dr David Grant, CBE, FREng, FLSW, CEng, FIET was Vice-Chancellor of Cardiff University from 2001 until September 2012, with responsibility for 30,000 students, 6,000 members of staff, and an annual income of £430 million. Prior to that he held leadership positions at a number of international engineering companies including Dowty Group and GEC plc where he was Group Technical Director. He is currently chairman of STEMNET, senior independent director of IQE plc, and non-executive director of the Defence Science and Technology Laboratory (Dstl). He was a Vice-President of the Royal Academy of Engineering from 2007 to 2012. David was appointed to the board in April 2012. He is a member of the Nomination and Audit committees, and Chair of the Remuneration committee.
Kath Durrant

Non-executive Director
Kath Durrant was until recently the Group HR Director at Rolls-Royce plc and a member of the Executive team. She previously held a variety of senior positions at AstraZeneca plc, including Vice President, HR and Communications for its research and development division. Prior to AstraZeneca, Kath spent a short time at GUS plc and eleven years at GlaxoSmithKline plc. Kath currently sits as an Advisory Board member for the Lancaster University Management School. She was appointed as a non-executive director in January 2015 and is a member of the Remuneration and Nomination committees.
Norma Tang

General Counsel and Company Secretary
Norma qualified as a solicitor in 1988 and since then has specialised in company and commercial legal matters, advising business clients and as in-house counsel. Prior to joining Renishaw in 2001, Norma was a member of the corporate legal team at Nationwide Building Society for 7 years. Norma heads the legal and company secretariat function, advising the Board on legal compliance and governance matters.