Process control for manufacturing
Productive and efficient manufacturing.
Find out more about process control
We provide a structured approach to identify and control variation in manufacturing operations, backed by innovative technology, proven methods and expert support.
See how process control can make your operations more profitable and boost your competitiveness.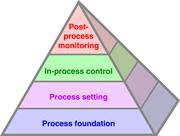 The Productive Process Pyramid™