Dynascan offers a unique solution in the mobile LiDAR scanning market.
With a rotating head giving 360 degree scanning, high accuracy and the compact incorporation of leading GNSS and IMU technology, Dynascan gives customers the performance, portability and price they need to complete work efficiently.
High-grade resistance to water and dust means the Dynascan can be used safely, accurately and without damage, where previously surveying was hazardous or arduous to complete.
A new, easier, cost-effective way to survey
Working with Dynascan has helped surveyors in a range of industries increase output, whilst working cost effectively.
Dynascan's small size and weight makes it versatile enough to deploy on a range of vehicles or vessels. You can now dynamically survey areas of limited or difficult access, including steep narrow tracks, parks, small river tributaries and narrow water ways.
Portability
Dynascan is easily transported and within hours the system can be mobilised on any moving platform that is land or marine based. 
The Dynascan single head system pod weighs 17 kg, whilst the dual head system pod weighs 25 kg.
Durability
Dynascan contains no delicate scanning mechanisms or rotating mirrors and was designed to operate in the world's most extreme environments. 
Dynascan is built to industrial specifications with an all-weather design ensuring the system will operate straight out of the box after long trans-shipment journeys, minimising down time on the job and time in the repair shop
Rapid deployment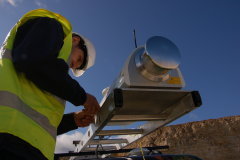 No heavy or cumbersome mounting brackets are needed, and all sensors are factory calibrated and aligned inside the pod.
One cable from the Dynascan pod to the rugged laptop eliminates the cabling problems associated with similar complex equipment.
Dynascan can hook up to the vehicle or vessel battery system, needing either a 12 or 36 volts DC supply.
Fully-featured software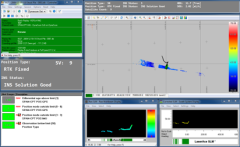 The Dynascan system comes with its own fully-featured software suite, providing a user-friendly route along the scanning workflow from initial project planning and real-time 3D acquisition, through to final processing, quality control, and reporting.
For ease of integration into existing workflows, data can be exchanged with third-party applications via a large number of industry standard formats (eg DXF, XTF, GeoTIFF, GSF, BAG, ASCII).
Integration with other sensing technologies is also catered for, with the software allowing seamless acquisition from a variety of other sensors, such as a GPS receiver, an IMU, a camera or video system, a multi-beam echo sounder, or a side-scan sonar system.