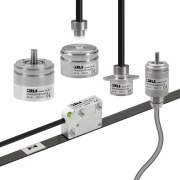 To meet the increasing demand for reliable, low cost, rotary and linear encoding Renishaw works closely with our associate company RLS d.o.o., to produce a range of robust magnetic linear encoders, magnetic ring encoders and magnetic rotary encoders.
Designed for use in harsh environments, such as industrial automation and assembly systems, metalworking, stone-cutting, sawing, textiles, plastics processing, woodworking, packaging and electronic chip/board production, these high-speed magnetic encoders complement Renishaw's extensive range of optical angle encoder and optical linear encoder products.
Find full technical details of Renishaw's range of magnetic encoders at the website of our associate company RLS d.o.o., speak directly to your local Renishaw office, or request further details.
About RLS
Founded in Slovenia in December 1989, RLS (Rotary and Linear Motion Sensors) initially focused on providing solutions for a wide range of motion control and metrology applications. From 1998 the company started to specialise in the design and manufacture of magnetic encoders and associated components, which today are supplied worldwide through a network of distributors and direct to industrial companies.
In December 2000, Renishaw took a 50% shareholding in RLS d.o.o., allowing the former to benefit by widening its position encoder range, and giving RLS access to the distribution strength and applications experience of an established encoder supplier.
Today, the experience and knowledge of RLS, combined with acknowledged innovative approaches and Renishaw's support, enables it to offer a market leading range of magnetic rotary encoders, magnetic linear encoders and magnetic ring encoders. It also retains a strong focus on custom product solutions, including ASICs which are found in a range of Renishaw's leading metrology products.