Cavity surveys to support underground or surface mining projects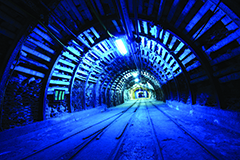 The existence of an underground mine void does not necessarily represent a significant subsidence hazard. By using C-ALS to determine the size and extent of the openings, spacing and size of pillars, mining customers have been able to evaluate and accurately assess risks, and in many cases prepare for ambitious new mining programmes, by ensuring project plans are safe.
Mine managers will want to have a complete picture of the situation underground before committing to projects or deploying workers, and the C-ALS supports them by providing key data on:
Excavation and infill of stopes
Accurate location of void 
Geometry and condition of mine workings (intact, collapsed)
Inaccessible historic workings
Collapsed areas
Erosion of ore-passes
Volumes of voids
The position of cavities in relation to other underground workings and structures
Size of remaining pillars
Failure mechanisms (sinkholes, troughing)
Location of the workings relative to surface features
The C-ALS is ideal for providing 3D data on inaccessible underground cavities. Mine managers can assess the stability of mine works and judge whether or not an underground cavity needs to be filled, whether work can proceed, and what project plans should be put in place to ensure that productivity and safety are maximized.
Open pit operations taking place over historic underground workings can pose serious threats to worker safety. The old mines will frequently be poorly mapped or will have shifted over the years due to collapse, void migration, flooding and seismic activity. A full understanding of the layout of the underground workings and their relation to surface operations is essential to be able to carry out safe open pit operations with heavy machinery, explosives and personnel.
Traditionally, it has been very difficult or dangerous to collect this information. The C-ALS can be used from the surface to map out the network of old voids and to provide detailed visual record of the subsurface environment. 
Void surveys in construction and geo-technical projects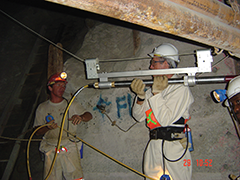 Many different construction and geotechnical projects may need to identify, measure and map voids below the project site. Where such voids cannot be easily or safely accessed, various technologies such as ground penetrating radar may be used to detect the void, but results can be limited by depth and geology and can be difficult to interpret.
C-ALS is ideal for such applications. After locating the approximate position and extent of the void/cavity from GPR or previously held data, a borehole is drilled in to the void or cavity and the C-ALS is deployed via the borehole or other small access point. Once in the void the laser head opens out to measure the 3D shape of the complete void. The scan data can then be analysed visually, measurements can be taken and a volume calculated.
Pre- and post-construction subsidence surveys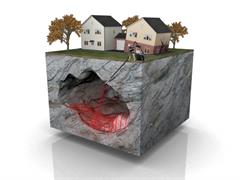 The presence of old mine workings or voids underlying residential and commercial properties, transportation and infrastructure facilities can cause differential settlement, sinkholes or even catastrophic collapse.
Whilst historic mine maps can help determine the geometry of voids, their depth and the nature of overlying strata, they do not help identify the results of retreat mining, pillar theft, spontaneous collapse or other subterranean movements.
Engineering solutions can be put into place to counter problems caused by old underground workings, but designing these solutions requires a complete picture of the situation underground. By deploying the C-ALS into these otherwise inaccessible areas, the required data can be collected and the area comprehensively mapped.