How it works
Void Scanner is designed to give accurate data, using the latest 3D mapping technology, in the unique conditions found in underground mines.
Laser scanning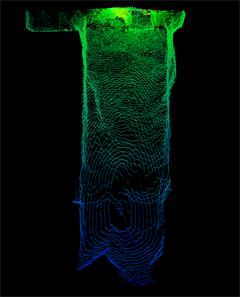 Laser scanning is a quick, modern, and highly accurate surveying method, which requires little operator training.
3D laser scanning captures spatial data by the use of laser light. The laser in the Void Scanner probe sends out pulses of infrared light, which bounce off solid surfaces and are then received back into the Void Scanner and recorded as a point in space.
The shape, position, and spatial locations of objects are recorded by millions of points, each with XYZ co-ordinates. The full set of points, or point cloud, represents the space or object scanned.
Our Cavity Profiler software allows for modelling and manipulation of the point cloud data, as well as export to other packages.
Quick set up and scan time
Void Scanner scans more quickly than other surveying tools. With a 200 points per second scan rate, a series of full 360° scans taken at 1° increments and giving a full point cloud map of a cavity, will take around 12 minutes. Void Scanner offers a 360˚ horizontal scan and a vertical scan extent of 270˚.
Set up is quick and simple: Essential for those customers using Void Scanner for daily void volume calculations. Ten minutes is sufficient to unpack the system, connect cables, mount to the boom, and ready the laptop.
The Void Scanner is powered by either a 12 V dc battery, or by mains power. A battery and an ac power adaptor are included in the package, or operators can use a 12 V car battery or equivalent power source. 
Locating the void relative to other maps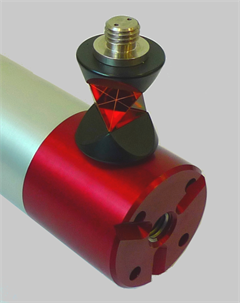 To plan new projects, it is helpful to know the absolute position of any voids, so that the point cloud data collected using Void Scanner can be used alongside other mine maps.
Void Scanner makes it easy to do this, for mines with local survey control points and a total station. Our training gives even those with no experience of surveying the confidence and skills they need to complete the simple process involved. Alternatively, our own project team can undertake the work for you, at the beginning of a project.
A 360° prism, provided with the system, screws onto a mount on top of the Void Scanner. A total station can be used to shoot in the position of this prism in relation to local survey control points.
Once the position of the Void Scanner is established through observations to the attached prism, one more co-ordinate referencing the back end of the boom allows the software to calculate the orientation of the boom, and the system itself.
Multiple Void Scanner scans can be joined to each other or to datasets collected by other means, once the co-ordinate reference points are known.
Designed for deep underground mines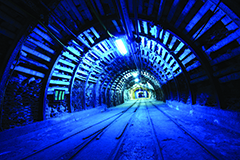 As underground mining has ventured ever deeper in recent years, Void Scanner is designed to withstand the higher operating temperatures found deep underground, as well as being robust and portable enough to be used for multiple deployments. Many of our units have been in operation for over six years.
The lightweight and portable Void Scanner weighs 5 kg and, with a diameter of just 15 cm, can be deployed into very small apertures. Where borehole deployment is required, we recommend our slimline C-ALS® system. 
Versatile deployment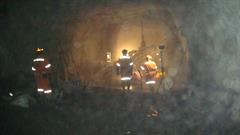 Void Scanner's flexible deployment options give customers the opportunity to reach previously innaccessible or dangerous voids, safely and quickly.
Void Scanner's mounting points allow it to be deployed by tripod, boom, mast, crane or wire line. The system also has built-in digital three-axis pitch-and-roll sensors to automatically correct for the instrument's inclination, whether deployed in a vertical or horizontal orientation.
Data output and control (from tablet PCs or PDAs) is via a 13 m power/data cable. A WiFi option is available and can be used, for example, when the instrument is deployed from robotic unmanned mining machinery.